The Carnival of Invention
Posted Friday 11 August 2023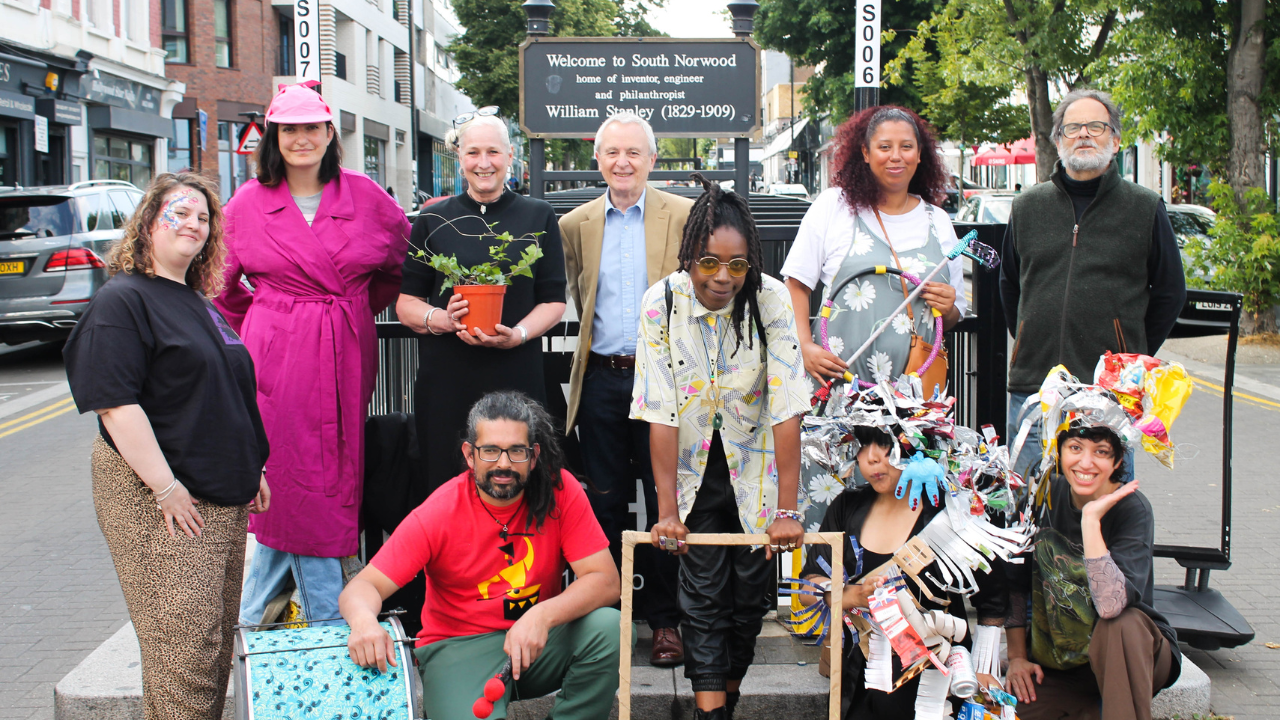 Presented by Stanley Arts and Historic England
Celebrating the everyday inventions and creativity of South Norwood with a family-friendly all-day takeover of Station Road.
. Station Road will be closed for the day so that local businesses, community groups and artists can come together to celebrate the spirit of invention and the diversity of South Norwood's heritage.
. 20 artists and groups will showcase their talents and invite everyone else to get involved – from legendary punk pop group Frank Chickens to local comic creator Martin Eden.
The day takes inspiration from historic local inventor and philanthropist William Stanley and will be staged in the shadow of William Stanley's Clocktower.
This is the culmination of the three year Inventing South Norwood' project, funded by Historic England's High Street Heritage Action Zones Programme, and a part of This is Croydon, The Mayor of London's, London Borough of Culture 2023 The day will celebrate the lives of local people and the integral role the high street plays in their daily lives as a home of creativity and everyday invention.
Station Road will come to life this September with performances, interactive art, a community feast and go kart racing, helping to revitalise South Norwood as a home of cultural creativity for the 21st century.
Collectively designed by Stanley Arts, local producers and members of the Inventing South Norwood Steering Group, the Carnival of Invention will provide an inclusive, fun and forward-thinking day of free activities for the whole community to enjoy.
Taking inspiration from the theme of 'invention' in all its forms – from music to machines, fashion, culinary feasts, stories – the Carnival of Invention team invites people to bring their imaginations, big ideas, skills and talents to create something new.
South Norwood is the birthplace of many unique and interesting inventions, and this Carnival of Invention is particularly inspired by Stanley Arts' namesake William Stanley (1829 – 1909) an inventor, engineer, painter, musician, author and noted philanthropist who lived in South Norwood. Stanley was well loved by the community thanks to his generosity and care: giving over £80,000 to education projects during the last 15 years of his life, hosting garden parties to raise money for food to help starving children over the winter and paying for the local bandstand. His ideas and inventions resulted in 78 patents during his lifetime, which in turn meant the construction of factories, a school, social meeting rooms, ornate clock towers and the Stanley Halls building complex which he created to be a local home for entertainment, art, and culture.
"South Norwood has a rich and enduring history of invention and creativity. We hope that the whole of our local community will come together to celebrate our collective spirit of invention."

Daniel Winder, Venue Director, Stanley Arts
"The high street cultural programme is a step change in the way we think about bringing high streets back from the brink. As we start to see these important historic spaces regenerated through building work, it is the community-led cultural work that helps people to enjoy their high street again and also have a say in what the future of their high street might be."

Duncan Wilson, Chief Executive, Historic England:
"This is Croydon is about bringing people together, celebrating communities and uniting them through culture. Our high streets are an important part of community led cultural regeneration. In the shadow of William Stanley's Clocktower, The Carnival of Invention carries on his legacy of innovation by showcasing local inventors with this free event."

Jason Perry, Executive Mayor of Croydon
"Culture is the heartbeat of London and I am delighted that South Norwood is bringing together invention, imagination and creativity with this community celebration. The Carnival of Invention will showcase an array of ideas, skills and talents with free activities, performances and culinary treats, as we build a better London for everyone."

Deputy Mayor for Culture and the Creative Industries, Justine Simons OBE
For media enquiries, please contact Stanley Arts:
marketing@stanleyarts.org
Press images available here.