Spectacular Giraffes Take Over Croydon this August
Posted Sunday 16 July 2023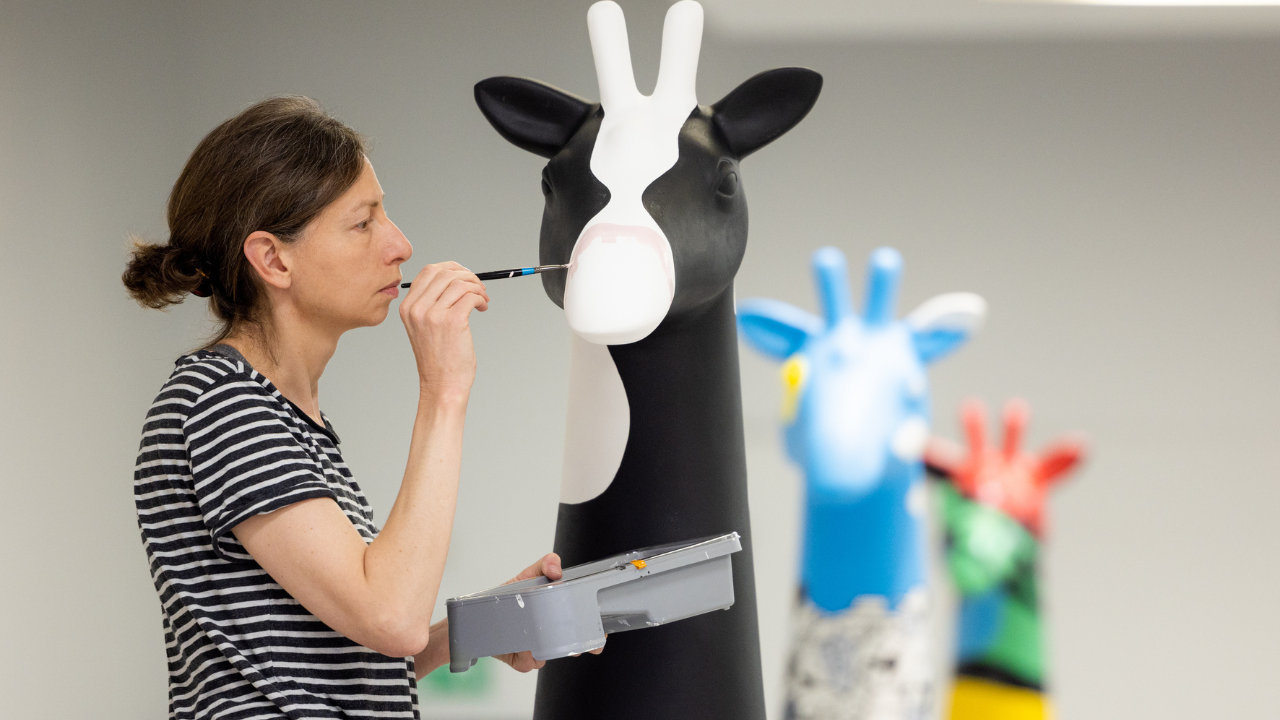 Croydon Stands Tall Unveils Captivating Art Trail Celebrating Vibrancy and Creativity
As a showcase event for This is Croydon, London Borough of Culture 2023 , Croydon Stands Tall will celebrate the diversity and creative spirit of Croydon while raising funds for Crisis, the national charity working to end homelessness, which has 11 Skylight centres across Great Britain, one of which is in the heart of Croydon.
Joining the majestic giants, a delightful herd of baby giraffe sculptures will join the trail, decorated by local schools and community groups. These smaller sculptures will be strategically placed across the town's civic centre and spaces, libraries, and shops, adding unexpected experiences to people's daily lives.
To enhance the experience for locals and visitors, a free dedicated trail map and app will be available that will unveil the colourful creatures at every turn, providing exciting rewards and fact-finding missions along the way.
To end the trail, Croydon will host a special farewell weekend, where all the giraffe sculptures will be displayed together in one final giraffe spectacular.
Following the impressive gathering, Croydon Stands Tall will host a finale event where all large sculptures will be auctioned off in aid of national charity Crisis, raising vital funds for the charity's Croydon Skylight which offers vital help with housing, jobs, health, and wellbeing to help people leave homelessness behind for good.
Matthew Sims, Chief Executive of Croydon Town Centre Business Improvement District Ltd, said:
"Croydon, a place defined by its people who stand tall at all times, is home to such a rich and diverse culture. Through our artistic partnership with Wild in Art, the Croydon Stands Tall trail, will bring art and culture to the people enhancing this year's London Borough of Culture, This is Croydon. This August, our streets will come alive with 60 magnificent uniquely designed giraffe sculptures, ranging from small to towering, creating a vibrant and spectacular experience."
"This free event will unite our community, inviting everyone in Croydon—residents, workers, and visitors—to partake in the joy and celebration of our exceptional town on a massive scale. As well as creating a fun experience for all this summer, we are fundraising for Crisis Skylight Croydon who are working hard to eliminate homelessness in our community at a time of great need. We're excited to see you all there!"
Jason Perry, Executive Mayor of Croydon, said:
"This is Croydon, London Borough of Culture is about restoring pride in our great borough, bringing people together and celebrating our communities, and that's what Croydon Stands Tall is all about. Croydon Stands Tall is a great example of culture forging new partnerships between Croydon's business, cultural and education communities, to create something fun and free for residents and visitors of all ages to enjoy. Get involved and follow the Giraffe Trail through Croydon this summer and beyond!"
Christine Eyers, Director of Crisis Skylight Croydon, said:
"We're so excited to see the trail launch this summer and to see all the giraffes, and their amazing artwork, dotted around Croydon.
"It is a real honour for Crisis to be the charity partner for such a unique event. The auction at the end will help us to continue our work, supporting people across the borough who are facing the devastating reality of homelessness. Through our
frontline services we help people take the steps they need to rebuild their lives and leave homelessness behind for good."
Simon Comins, Chief Commercial Officer at Superdrug said:
"We are proud to be part of Croydon Stands Tall and are looking forward to seeing all the giraffes as part of the trail this summer. To be able to sponsor the initiative with Croydon BID, knowing the donations will go to a great cause and help support those within the Croydon community is an honour. We've got a long heritage in the area, with our head office and several stores located in the heart of the town centre and we look forward to the launch in August."