UKRAINE'S PRINCIPAL ORCHESTRA MAKES FAIRFIELD HALLS DEBUT THIS OCTOBER
Posted Monday 24 July 2023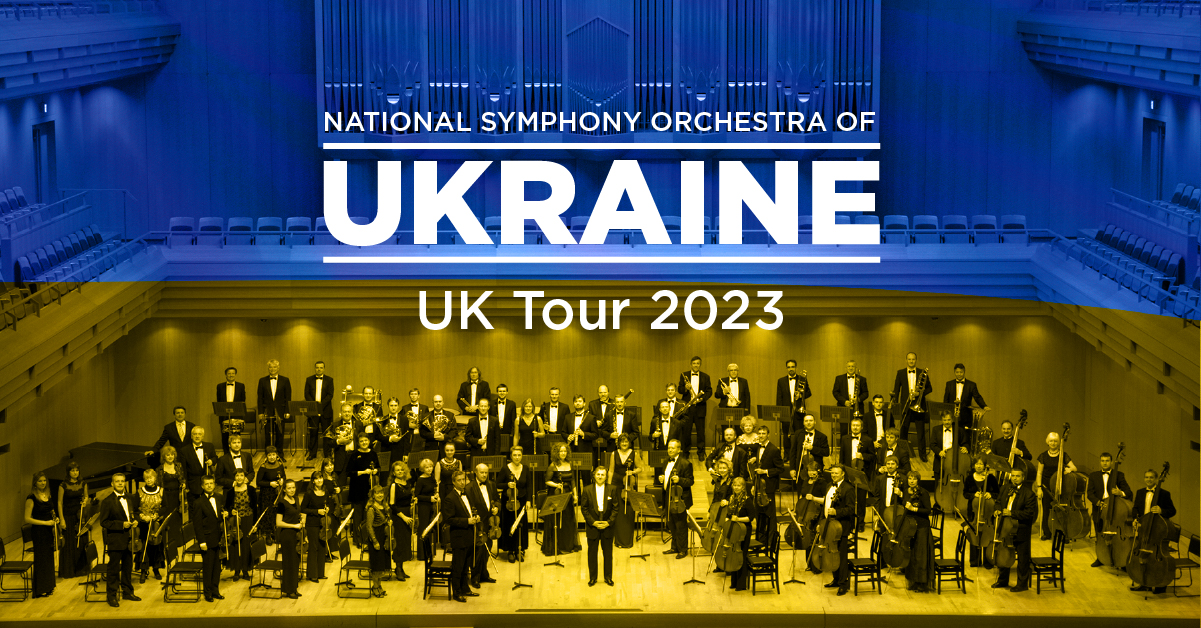 ICONIC CONCERT HALL WELCOMES NATIONAL SYMPHONY ORCHESTRA OF UKRAINE (NSOU) AT THE START OF ITS LARGEST-EVER UK TOUR
The orchestra will provide a free pre-concert workshop to young people from South London, inspiring the next generation of young musicians.
Fairfield Halls and BH Live, in partnership with This is Croydon, are pleased to welcome the National Symphony Orchestra of Ukraine (NSOU) in October on their first tour of the UK in 20 years, as part of This is Croydon, The Mayor of London's Borough of Culture 2023.
The gala concert, part of the venue's 2023-24 International Orchestra Series, will be the flagship contribution of Fairfield Halls to a diverse roster of events marking Croydon's year as London Borough of Culture.
The NSOU is performing for audiences across the UK this autumn, and on Wednesday 18 October the orchestra will make landfall in the celebrated acoustic of the concert hall at Fairfield Halls, playing music from across Europe, including from one of Ukraine's premier composers, Borys Lyatoshynsky.
Comprising over 100 instrumentalists, the orchestra has remained in residence in Kyiv and continues to play a central role in Ukrainian cultural life since the full-scale invasion in the spring of 2022.
"We think it is important to continue to play and perform during this conflict, and show the rest of the world the fantastic culture Ukraine has to offer."

Nataliia Subbotina, a cellist for the upcoming tour
The orchestra will also be taking part in an innovative educational project in collaboration with Fairfield Halls, offering an exclusive pre-concert workshop for the students of London's first Yamaha Music School, based at the venue.
The workshops offer young people an inspiring insight into the world's finest orchestras and are a part of the venue's ongoing and wide-ranging work to increase participation and interest in arts and culture across South London.
Speaking about the venue—which celebrated its 60th anniversary in 2022
"There is no doubt that (Fairfield's) Concert Hall has the finest acoustics of any in London and all of our distinguished international orchestras who have previously visited the venue always commented on these wonderful acoustics and the tremendous, enthusiastic audiences."

Andrew Jamieson, Head of Touring for IMG Artists
"I'm delighted that the National Symphony Orchestra of Ukraine will be performing at Fairfield Halls as part of our London Borough of Culture. As well as inspiring the next generation of musicians with unique Ukrainian culture, this performance will serve as a reminder that music and art brings together communities and provides comfort in the darkest of times."

Deputy Mayor for Culture and the Creative Industries, Justine Simons
"I'm delighted that the National Symphony Orchestra of Ukraine is starting the first leg of their first UK tour in 20 years in our world-class Concert Hall at Fairfield Halls. This is Croydon is about bringing people together, celebrating communities and uniting them through culture, so we are honoured to share this moment with the people of Ukraine and stand in solidarity with them.

"Alongside their concert the orchestra will take part in a workshop with the venue's Yamaha Music School – the only one in London – to provide some of Croydon's young musicians with insights into what it is like to be part of a word-class orchestra. As well as bringing the best artists from the UK and beyond to the borough, through This is Croydon we are creating an inspiring culture to encourage and promote the wealth of young talent we have in Croydon."

Jason Perry, Executive Mayor of Croydon
Tickets for all events are now on sale. More information and booking links available at fairfield.co.uk
For further information, press tickets and interviews please contact: Arabella Neville-Rolfe for ANRPR on 07815 025364, arabella@anrpr.co.uk