National Gallery visits Croydon
Posted Monday 3 July 2023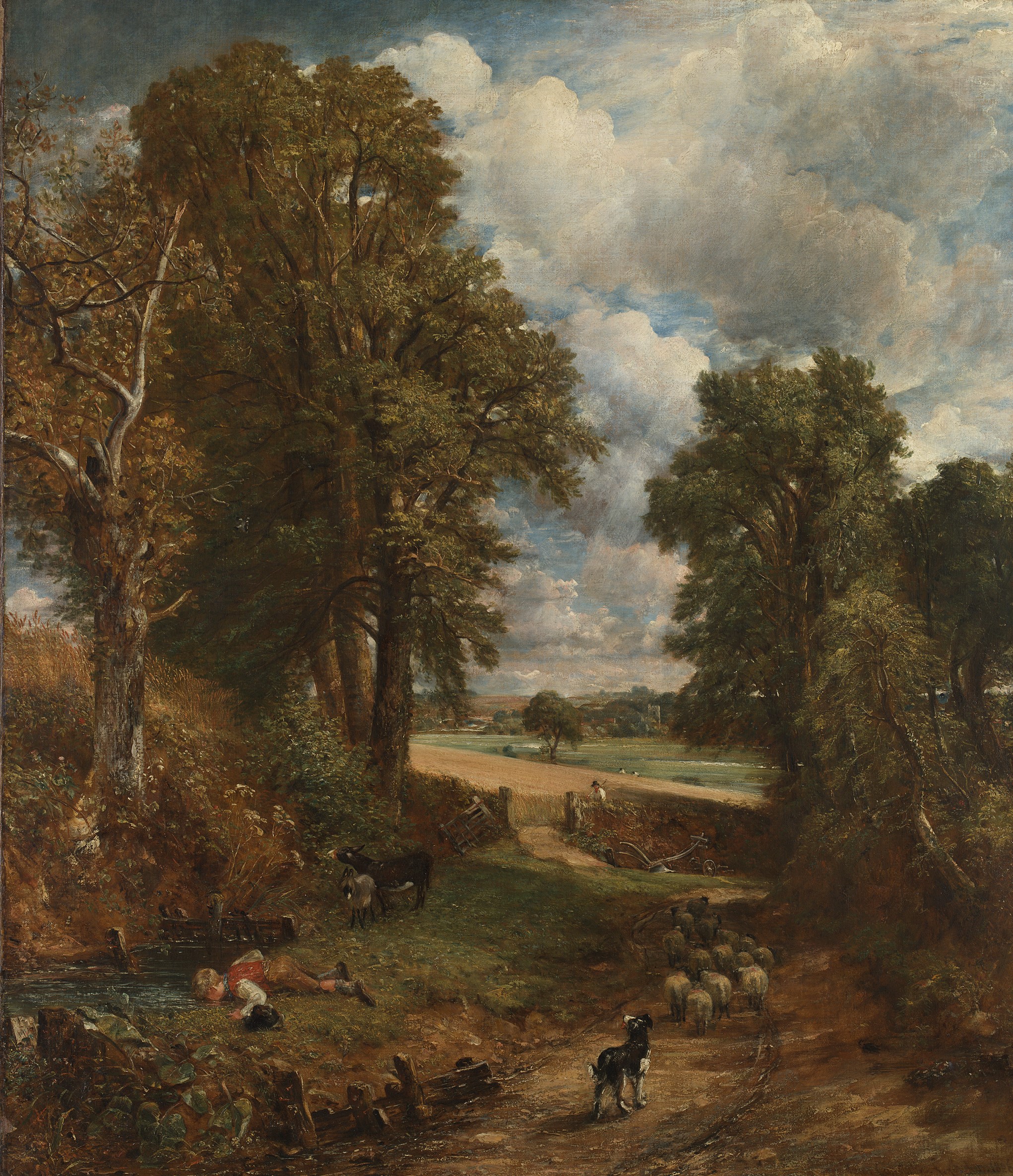 Constable's The Cornfield as part of the National Gallery Visits tour and photographer Ameena Rojee's latest project 'Rural Croydon' come to Croydon London Borough of Culture
John Constable's The Cornfield, one of the most beloved paintings from the National Gallery's collection, will be unveiled tomorrow to passing visitors to Thornton Heath Library as part of This is Croydon London Borough of Culture.
The painting, which has come to the borough as part of the bi-annual Visits programme, will be here until Sunday 9 July. It is the final stop on the tour, which has seen thousands of people come to see the painting all over England, from Jarrow to the Isle of Wight.
From Tuesday 4 to Monday 31 July, a new exhibition at Thornton Heath Library will showcase local photographer and writer Ameena Rojee's latest project Rural Croydon, as part of This is Croydon, its year as The Mayor of London's London Borough of Culture. It is an exploration of the conservational grazing taking place at the borough's edges. As part of the exhibition, the library will also invite families to celebrate nature, woodland, and farming at the Croydon Fields Family Fun Day on Saturday 8 July.
Engagement activities for Constable's The Cornfield have been led by the National Gallery's partners and shaped in response to Croydon communities' needs. Activities are already underway to enthuse groups about the painting coming to Croydon and to help them think about what to look for when seeing it up close. These include street art, songs, dances, poems, and the design of special sensory experiences.
Although completed in Constable's London studio in 1826, this painting of a Suffolk lane shown winding into a cornfield is based on Fen Lane, which Constable often walked along as a boy, from his own village of East Bergholt to Dedham where he attended school. The lane still exists but the countryside and village beyond it were largely invented. The Cornfield often inspires viewers to think about what home means to them and how it makes them feel. Constable himself wrote that 'painting is but another word for feeling'.
Previous Visits tours have not only introduced thousands of people to the National Gallery but have also provided the opportunity to engage with and benefit from culture in the local areas in the longer term. Audiences all over the UK who said they were not regular visitors to cultural spaces responded afterwards that they were interested in seeing art again in the future. Workshops and activities delivered in partnership with local museums and galleries helped them grow their own audiences in turn. Participants in workshops remarked afterwards on how inclusive they had found the experience and described feeling more confident in themselves and their ability to create art and express themselves.
Jason Perry, Executive Mayor of Croydon, said: "We are delighted to see Constable's The Cornfield come to Thornton Heath Library as part of the National Gallery Visits tour during Croydon's year as London Borough of Culture. National partnerships like these create a wealth of opportunities for our residents to experience and enjoy art on their doorstep. Alongside The Cornfield visit, we celebrate a side of Croydon not always seen in Rural Croydon – a new commissioned exhibition by local photographer Ameena Rojee. Croydon is incredibly lucky to have 127 stunning parks and green spaces – they are intrinsic to our culture and our communities. This is a chance for residents to rediscover them and for visitors to explore some of the vast green spaces that make our borough beautiful."
Gabriele Finaldi, Director of the National Gallery, said: "Running the Visits tour is a highlight for us at the Gallery. It is an exciting way for us to connect with new partners all over the UK, and to be part of their outstanding work with their local communities. Through our collection we want to enrich lives by connecting art, people and ideas across centuries, countries and cultures; our partners drive the conversations about the painting and how they want to respond to it. It is always exciting to see the playful, creative and inclusive learning opportunities that grow out of these collaborations."
Mary McMahon, Bernays Curatorial Fellow of British Paintings, said: "Constable's paintings encourage us to engage with the beauty of the countryside that surrounds us in the UK, and the role memory plays in our attachment to it. It's the perfect painting to remind everyone who sees it that wild spaces, just like great art, belong to us all."
Rural Croydon, Tuesday 4 – Monday 31 July
Ameena Rojee's new photography project Rural Croydon depicts roaming cattle, charming meadows, and an abundance of rare wildflowers. These poetic scenes aren't usually associated when Croydon is mentioned, and yet, these are all part of Croydon's rural side.
In the borough, much of the land is chalk grassland, a type of species-rich land prominent in the south of England which has some of the rarest habitats in the UK. It is fast disappearing, with almost 80% of these grasslands lost since the 1940s.
Conservation grazing is a centuries-old land management technique that primarily uses sheep along with cattle and goats to graze the land, and in recent decades this technique has seen a return as several organisations and charities work towards restoring the deep biodiversity and rich wildlife unique to this edge of London.
This is a part of the borough that is rarely seen, and is never shown in the media. Though these wilder sides of Croydon are beautiful to behold.
The exhibition runs until July 31st 2023 and is commissioned by This Is Croydon, London Borough of Culture 2023. This project was photographed May – June 2023. http://www.ruralcroydon.com/ | #ruralcroydonphoto
Listings for visits:
From Tuesday 4 July until Saturday 9 July, Thornton Heath Library, Brigstock Road, CR7 7BJ
Viewing Times:
Tuesday 12pm – 6pm
Wednesday – Friday 10am – 6pm
Saturday 9am – 5pm
Sunday 11am – 5pm
Listings for Rural Croydon
Tuesday 4 – Monday 31 July. Thornton Heath Library, CR7 7BJ
Viewing Times for Croydon Fields:
Tuesday 12pm – 6pm
Wednesday Friday 10am – 6pm
Saturday 9am – 5pm
Sunday 11am – 5pm
From Monday 10 July
Monday and Wednesday 10am – 6pm
Saturday 9am – 5pm