Come along for a family friendly led by giant, colourful puppets to learn about endangered species. Join for food, music, litter picking and speeches led by UK DRG Bridge.
Find out more information abut this event:
Email ukdrcbridge@yahoo.co.uk or phone 07940417036
Funding Partner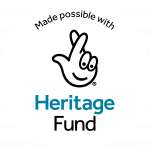 The National Lottery Heritage Fund
The largest funder of UK heritage. We believe in the power of heritage to ignite the imagination, offer joy and inspiration, and to build pride in place and connection to the past.
We invest money raised by National Lottery players across the UK, in collaboration with a wide range of statutory bodies, as well as other National Lottery distributors. Our work is made possible thanks to the support of National Lottery players.
As The National Lottery Heritage Fund, we distribute National Lottery grants from £3,000 to £10million and over, funding projects that sustain and transform the UK's heritage.
As The Heritage Fund, we distribute funding on behalf of the UK and devolved governments to heritage organisations.
We provide leadership and support across the heritage sector, and advocate for the value of heritage.
Since we were established in 1994, we have awarded £8.8billion of National Lottery and other funding to more than 51,000 projects across the UK.