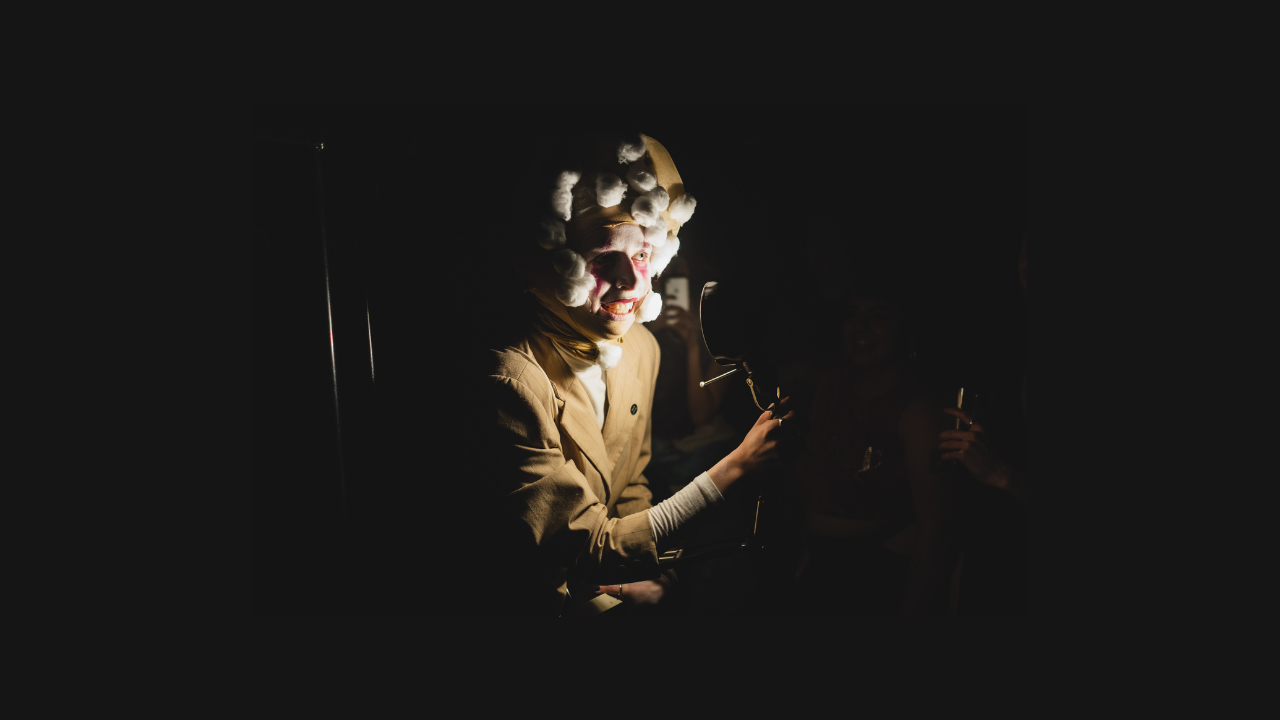 A three-in-one Thursday treat – featuring two brand new performances by Tom Marshman and Sophie Halstead, both co-commissioned for this year's A Bit Of A Do Festival, alongside guest artist Meg Hodgson.
The following artists will be performing as part of a triple-bill:
Meg Hodgson
Sophie Halstead
Tom Marshman
About the performances
Meg Hodgson – MOONFACE
2023. Shady billionaires make plans to colonise and mine the solar system behind all our backs, and the Moon has had quite enough.
Made with Professor Ilan Kelman, coordinator of UCL's Space Health Risks Research group, MOONFACE is a humorous and exuberant love letter to our nearest celestial neighbour.
Sophie Halstead – Sorry?
'Sorry?' is a one woman show reflecting on Sophie's relationship with her deafness. The show slides between humility and extravagance, offering a generous performance about discovery of oneself. The piece guides audience members through Sophie's embrace of identity, by transitioning through scenes reminiscent of Sophie's experience of contending with her deafness. The show works with ideas of concealing and revealing through the use of lights and costume as an extension of the body. The performance uses the space creatively, with moments of close proximity with the audience encouraging them to immerse themselves within Sophie's dance.
Tom Marshman – The Show of Shows
Tom Marshman is a show off and an over-sharer, in his new work The Show of Shows he asks; has the impact of growing up within Section 28 legislation made him this way? Over the last six months Tom has asked this question in conversation with the queer community he explores the legislation introduced by Thatcher's Conservative government which stopped schools mentioning queer life. Through integrating his past body of work Tom has begun to see this through the lens that is a bi product of the past invisibility and shame that was injured by him and many of the LGBTQIA+ around him
"A tour de force performance" The Gay UK (on Kings Cross (REMIX))
What will you experience?
This is a triple-bill of performance with an interval.
MOONFACE
This is a clown/drag solo performance. The performer will interact with the audience and ask some audience members to come up onstage. This is self-selected. They may also suggest that you give up your chair or space for props. Please feel empowered to say no if you do not want to.
Sorry?
This is a cabaret style dance performance in which the audience will be seated at the same level as the performer. The performer will move amongst the audience, and at times may get close to them.
Access information
For this event, the following access provision will be available:
Performance BSL Interpreter
Front of House BSL Communication Support
Step-free access throughout the venue
Some performances will include pre-recorded and/or integrated audio description.
Accessible toilet within the venue
This is a relaxed performance, meaning audience members can come and go and make noise as needed.
Content warnings and age guidance
Age guidance: This performance is for over 18s only
Content warnings:
The Show of Shows – Margaret Thatcher: her voice and imagery.
MOONFACE – The performance contains partial nudity, sexual content, references to violent colonial practices and coarse language. The performance contains loud sounds and low or changing lighting.
Sorry? – This performance may include moments with lower lighting.
About the artists
Meg Hodgson is an experimental performer, clown and movement artist based in London. Exploration of the serious business of science, queerness and grief through exuberant mediums is the foundation of Meg's artistic practice, with current shows-in-progress exploring the imminent corporate mining of the Moon and historic, non-binary jester narratives.
Sophie Halstead is a dance artist and performer. Her movement practice is informed by contemporary dance and inspired by cabaret. She simultaneously charms and challenges observers with her choreographic style. She creates from her observations of the human experience. She is a present performer who loves the risk of live performance!
Tom Marshman is a Bristol based artist and performer. An overarching theme of his work is that of the outsider & their story, particularly regarding the LGBTQ+ experience, stories that have been omitted through archival silence. Tom actively encourages dialogues with his audiences and participants, aiming to create a safe space to share thoughts and experiences, and making work that is true to their experiences.
Show credits
MOONFACE
Written and Performed by: Meg Hodgson
Science Collaborator: Ilan Kelman
Directed by: Helena Banerjee
Produced by: Millie Wood-Downie
Sound Design and Composition by: Liv Lynch and Jan Brzezinski
With thanks to Camden People's Theatre, UCL Culture and The London Mining Network
Sorry?
Caroline Salem- Mentor
Lea Anderson- Mentor
The Show of Shows and Sorry? have been co-commissioned by Drunken Chorus for A Bit Of A Do 2023