Relaxed screening
Another beautifully designed sci-fi animation from Makoto Shinkai (Your Name, Weathering with You). Suzume, a teenage schoolgirl, helps a mysterious young man close a series of mysterious doors that are releasing disasters all over Japan.
Meeting a mysterious young man who is travelling between Japan's abandoned places, student Suzume joins his mission to prevent earthquakes, braving supernatural portals and shapeshifting magic. Influenced by the 2011 Tōhoku earthquake and tsunami, and the impact of Japan's declining population, Shinkai channels the ingenuity of his previous features Your Name and Weathering With You, into a thrilling and innovative adventure.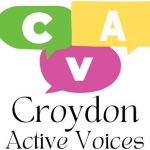 This is Croydon – London Borough of Culture screening. Relaxed screening for neurodiverse children/young people under 20 years old.
Ticket information
If you wish to attend this screening please email Roxie on: coordinator@croydonactivevoices.org.uk