Queer Stage Revolution's Cabaret of Curiosities
21st Oct 2023 , 8:00pm - The Front Room
Book your tickets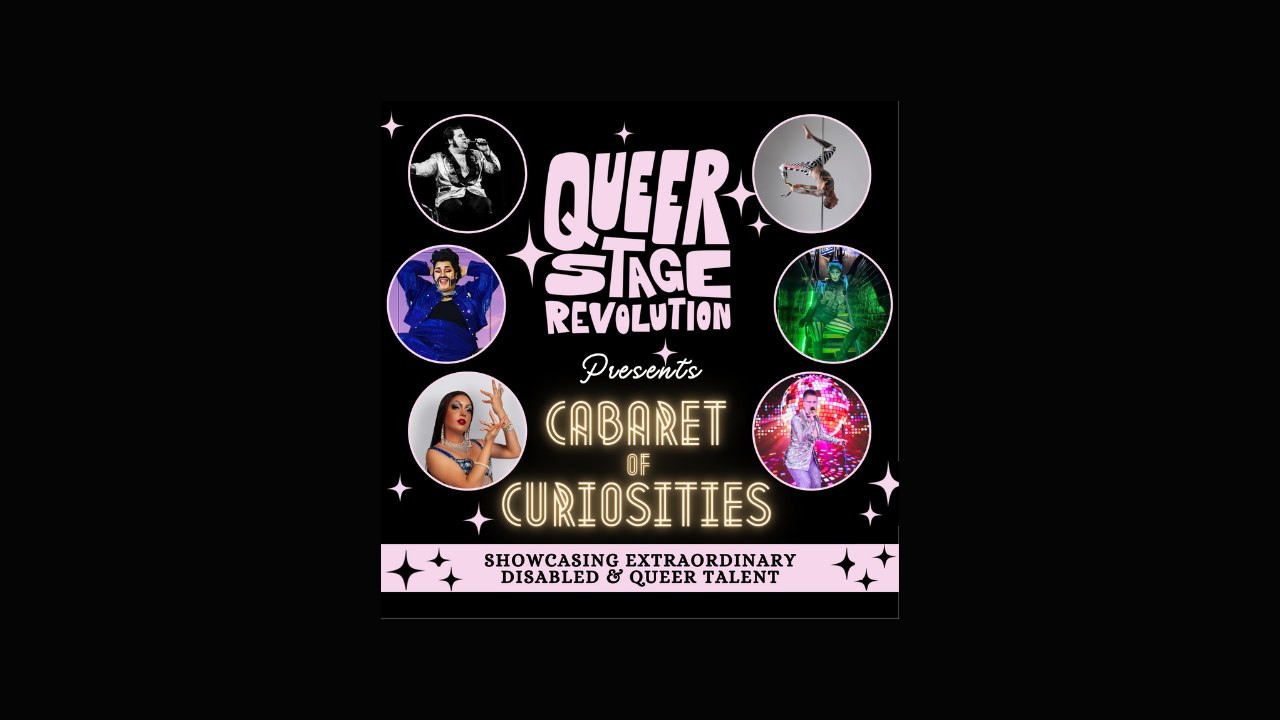 Part of A Bit of A Do Festival
Drag! Pole dancing! The Wheel Elvis! Hosted by the lip-syncing, cock-wielding, crip drag thing, George the Dragon, Cabaret of Curiosities shines a spotlight on queer, disabled and marginalised performers and their phenomenal talent. Prepare to be served drag, comedy, and live music. The revolution will be accessible – and fabulous! 
Not convinced? Check out our performers:
Asifa Lahore
Asifa Lahore is Britain's First Out Muslim Drag Queen! Having been featured on stages, TV shows, in journals and countless publications across the world, Asifa is a voice for intersectional rights, and a Gaysian superstar! Come spice up your life.
Tito Bone
Tito is a blind enby bisexual drag king who wants you to smell the world through their nose. They're a performer, host and accessexy AF.
Crip Ladywood
Crip Ladywood is Brum's Big Bi Drag King, and one of England's first Wheelchair-using Drag Kings. Expect lipsyncing, live singing, and stellar looks. Be prepared to meet your new daddy.
The Wheel Elvis
Described as world-class talent, The Wheel Elvis is here to crone and make you swoon!
Tattoo PoleBoy
Tattoo Pole Boy is a world champion para-poler, professional pole performer, teacher and the Male Athlete of the Year by IPSF (International Pole Sports Federation).
What will you experience?
This is a cabaret style performance in which you will be sat at a table. There will be a range of singing, lip syncing, dancing, and more. There may be some audience participation, but if you don't want to be involved, the host will explain how you can opt out.
Access information
For this event, the following access provision will be available:
Performance BSL Interpreter
Front of House BSL Interpreter
Step-free access throughout the venue
Accessible toilet within the venue
This is a relaxed performance, meaning audience members can come and go and make noise as needed.
Content warnings and age guidance
Age guidance: This performance is for over 18s only
Content warnings: Partial nudity, references to sex
About the artists
Drag! Pole dancing! The Wheel Elvis! Prepare for a cabaret extravaganza. Queer Stage Revolution is a cooperative where queer disabled performance artists can come together and lift ourselves and our art out of the background and into centre stage. Queer and disabled creative practices are crucial to society. They strengthen not only queer and disabled communities, but all communities contacting queer and/or disabled people. Individual voices calling for improved inclusion and participation are often drowned out. So sit, stand, and wheel with us as we roar!