Maggies Garden is a community initiative that has transformed a rubbish tip into a beautiful garden.
It is located in an area behind the Hermitage Lane Bus Stop on Green Lane, Norbury. The site contains a TFL bus driver's toilet and a small power sub-station. The rest of the area became neglected, increasingly overgrown with weeds and brambles and was a hot spot for litter, fly-tipping and graffiti.
The plot had been named Maggie's Garden as a tribute to a local councillor, Maggie Mansell, who sadly passed away in 2019. Maggie was a very popular character in Norbury and a hard-working councillor for 25 years.
Armed with this knowledge, a group of local residents sought permission from Croydon Council to create and maintain a garden on the neglected space, and with help from a local charity Litter Free Norbury, they raised over £4,000 in donations on Go Fund Me.
A local garden designer, Margaret Woznica created a design and after 7 months of clearing, digging, weeding, planting, watering and growing seedlings it is now a stunning garden, full of pollinator friendly plants and flowers. It has it's own water harvesting system, and bee and bird boxes.
Find out more
Funding Partner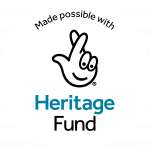 The National Lottery Heritage Fund
The largest funder of UK heritage. We believe in the power of heritage to ignite the imagination, offer joy and inspiration, and to build pride in place and connection to the past.
We invest money raised by National Lottery players across the UK, in collaboration with a wide range of statutory bodies, as well as other National Lottery distributors. Our work is made possible thanks to the support of National Lottery players.
As The National Lottery Heritage Fund, we distribute National Lottery grants from £3,000 to £10million and over, funding projects that sustain and transform the UK's heritage.
As The Heritage Fund, we distribute funding on behalf of the UK and devolved governments to heritage organisations.
We provide leadership and support across the heritage sector, and advocate for the value of heritage.
Since we were established in 1994, we have awarded £8.8billion of National Lottery and other funding to more than 51,000 projects across the UK.