Liberty Garden Party – Saturday
2nd Sep 2023 , 11:30am - 5:00pm - The Queen's Gardens, Croydon
Price : free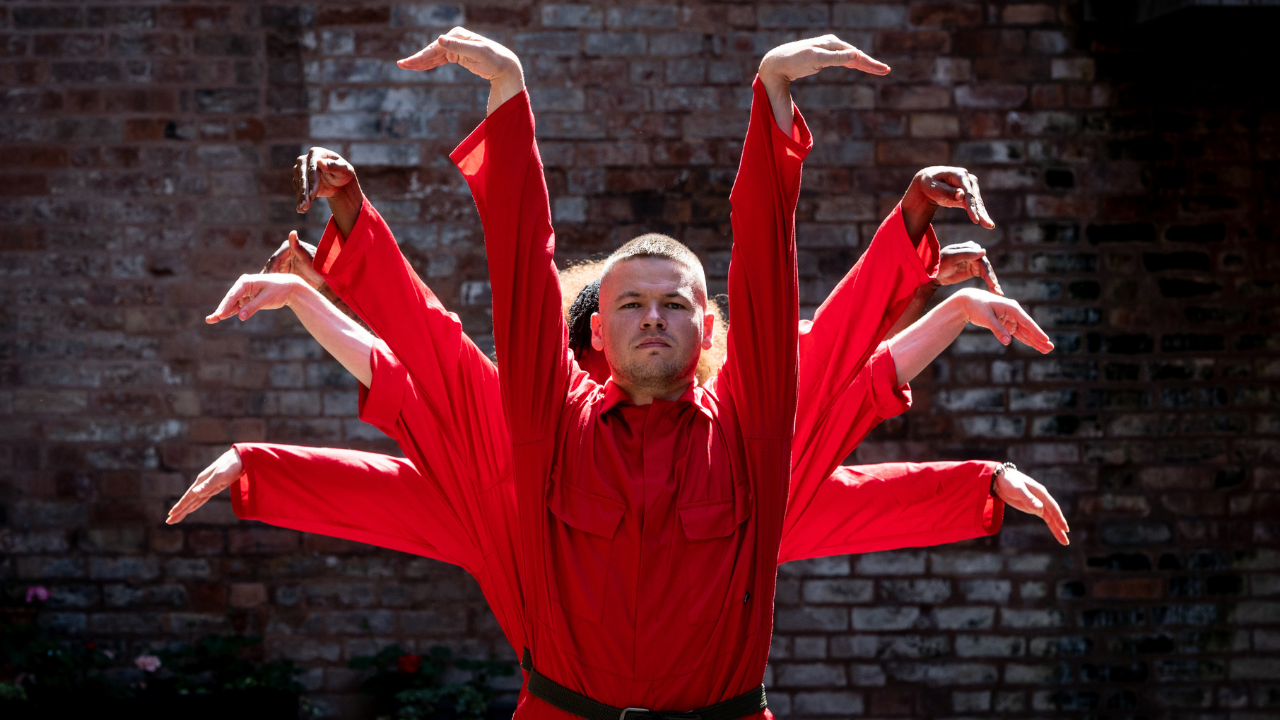 This is a family friendly outdoor pop-up event.
Join us at The Queen's Gardens, where throughout the afternoon performers will entertain you while you enjoy a hot drink from Dialogue Hub's Mobile BSL Dialogue Cafe!
The following artists will be performing throughout the afternoon:
Def Motion
Moxie Brawl
SAVVY Theatre Company
Stopgap Dance Company
Tit for Tat
For performance times please check the Liberty Festival timetable  – https://qrco.de/beFLTb
what will you experience?
You will be standing or sitting in The Queen's Gardens to watch an afternoon of pop-up performance. There won't be a raised stage or theatre seating. Some of the performances will be stationary, some will move around the park. Some of the performers will interact with the public, and might ask you to join in.
About the performances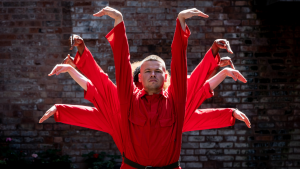 Def Motion Cog in the Wheel is a street dance choreographed & performed by Billy Read and crew, Def Motion. The piece explores a world where the production of smartphones is more important than human life. Based on true stories, Def Motion bring their vibrant, unique street dance to a difficult topic.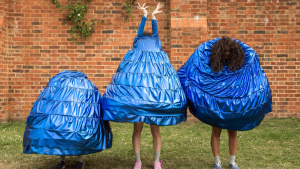 Moxie Brawl Jane. We are delighted to bring a special interactive version of Jane to Liberty Festival. Jane celebrates Jane Morris, an embroiderer and muse for many artists, including William Morris and Dante Gabriel Rossetti during the 19th century. This show will brighten up your day with outrageous blue costumes, mesmerising choreography and cheeky performers.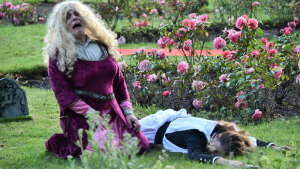 SAVVY Theatre Company The Pop-Up Players. Having been tasked with the evening's entertainment for the Duke & Duchess on their wedding day (at night), and having never ever performed anything before, this hapless, yet joyously eager group of players are determined to do their best and rise up from the Bottom!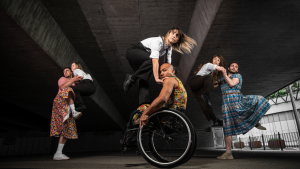 Stopgap Dance Company Frock. Six striking dancers collide in an uplifting dance riot set to a brand new art rock soundtrack by Hannah Miller and Oli Austin of Moulettes. In this quirky new dance piece, watch playful observations of the yesteryears explode into a 'punkish' celebration of individuality and difference.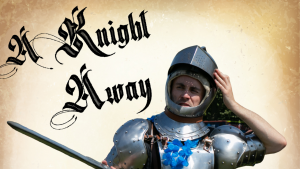 Tit for Tat A Knight Away. Sir Kuss is one of the oldest and most accomplished Knights in the Knightly Order – and he's been sent on permanent vacation! With stories to regale, feats of dexterity to display, and a lot of sun-bathing to achieve – be sure to say hello! Don't mind the grumbling of his overburdened Squire.
About the activities
Dialogue Hub – Mobile BSL Dialogue Cafe is the first British Sign Language (BSL) cafe in the UK. We employ Deaf and Hard of Hearing baristas so customers have to sign their orders in BSL to communicate to the staff. There is relevant signage for those to use to sign their order. Dialogue Cafe aims to address some of the socio-emotional issues those in the Deaf and Hard of Hearing community face, and the lack of necessary infrastructure to assist those in the community to interact with everyday society. Customers and baristas have genuine interactions and discussion that help guests develop a greater understanding and awareness of the community and BSL.
Access Information
Easy Read information for the Mobile BSL Dialogue Cafe – https://qrco.de/beH6bW
Easy Read information 'Cog in the Wheel' by Def Motion – https://qrco.de/beH6mG
Easy Read information 'The Pop-Up Players' by Savvy Theatre Company https://qrco.de/beH6y2
Easy Read information for 'Frock' by Stopgap Dance Company – https://qrco.de/beH6od
The Queen's Gardens has step-free access throughout the areas that will be used as performance spaces. There are smooth, concrete paths connecting these areas of the park. There are some areas of the path with slight incline/declines.
Either side of these paths are small grassy areas and benches
All performances will be relaxed, meaning you can move around, make noise and tic as you need
Performances will also include:
BSL interpreters
Some performance have integrated audio description
Easy-read information packs
Please note: some access resources such as; easy read information and pre-recorded audio description will be available across the festival via QR codes. We recommend bringing your smartphone and a pair of earphones if you would like to access these resources.
About the Artists
Def Motion is a Midlands-based crew of d/Deaf, hard of hearing, hearing and neurodiverse artists that perform shows infusing street dance with theatre and visual vernacular. Def Motion's dancers, headed by Billy Read, represent the diversity of young Britain bringing hip-hop, ballet and contemporary dance to neurodivergent, Deaf and LGBTQ+ identities.
Dialogue Hub – The Mobile Cafe project is led by the Deaf and Hard of Hearing Community and will create an inclusive and shared space for members of the community to come together and fully engage with our Deaf or hard of hearing baristas. We will encourage Londoners to order in BSL to spark conversation between visitors and baristas. By creating dialogue and sensory experiences, Dialogue Hub CIC aims to build a society that is more inclusive of people with disabilities by increasing empathy, awareness, and insight into the Deaf community. The mobility of the cafe allows for greater exposure and reach across London, and hence the ability to engage with more people from all backgrounds. It is estimated that there are approximately 11 million people in this country with a hearing loss which makes it the second most common disability in the UK. However, as an invisible disability, it often goes unnoticed, making it easier for those living with hearing loss to be ignored or forgotten. The BSL Mobile Cafe is important to Dialogue Hub CIC because it will complement our array of other projects which are all underpinned by a very strong commitment to social inclusion and change.
Moxie Brawl is a spicy inclusive dance theatre company who make work that your mum would love. Their award winning performances have been described as 'gloriously shambolic', 'wholly absorbing', 'endearingly witty' and 'definitely the most fun you'll have at a dance show'. Moxie Brawl creates work for the outdoors, indoors and places where dance shouldn't be. Moxie Brawl is led by artist Sarah Blanc and producer Michael Kitchin.
SAVVY Theatre Company creates ambitious theatre productions with community casts. We believe everyone has the right to access quality theatre and taking part is at the heart of what we do. The company was founded in 2007 by the current Artistic Director, who wanted to challenge audience and cultural perceptions of participatory theatre. Our vision is to use the power of theatre and shared creation to deepen understanding and empathy towards others, and as a force to steer change and develop inclusive communities.
Stopgap Dance Company is driven by a diverse creative team who uses dance as a movement for change. Our vision is to create an inclusive world where diversity is not just accepted but pursued, a world where no one is limited by prejudice against D/deaf, disabled, or neurodivergent people.
Tit for Tat is an unusual juggling company that believes in celebrating the ordinary. We take everyday objects, objectives and scenes, and we explore every nook and cranny until we make them extra-ordinary. We believe in finding the most exciting and, more often than not, the most difficult way of getting from A to B. Even when undertaking simple tasks such as making a cup of tea, painting a wall, or changing a lightbulb. Our performances bring a sense of raucous, all-inclusive community fun to public spaces – connecting with our audiences in a shared celebration of the absurd.
Show Credits
Def Motion –
Lead Artist/Choreographer: Billy Read
Performers: Billy Read, Ben Randall, Warren Murray, Kevaughn Laing, Kameel Myrie-Williams
Sound Design: Orique Johnson
Original Sound Composition: Reece Hayden
Rehearsal Directors: Johnny Autin and Sarah Butler
Visual Vernacular Consultants: Brian Duffy and Ishtiaq Hussain
Producers: Deaf Explorer
Funders & Supporters: Arts Council England, Midlands Arts Centre, 101 Outdoor Arts, Sense Touchbase Pears
Moxie Brawl –
First R&D with commission from Metal Culture in 2018 and performed ideas at The Space In- Between at Unlimited Festival. In 2019 it was developed and previewed at Offbeat festival in Oxford, Walthamstow Garden Party and Art night 2019. Supported by Arts Council England, the drawing shed, WFCulture.
Stopgap Dance Company –
Choreographer: Lucy Bennett
Cast:
Nadenh Poan
Christian Brinklow
Emily Lue Fong
Annie Rose Grantham
Jannick Moth
Alice Shepperson
Frock is commissioned and supported by:
Without Walls
Arts Council England
Salisbury Festival
Hat Fair Festival
Stockton International Riverside Festival
with Norfolk & Norwich Festival being our premiere partner.