Liberty Festival Finale
3rd Sep 2023 , 6:00pm - Fairfield Halls, Park Lane, Croydon CR9 1DG
Price : free
Book your tickets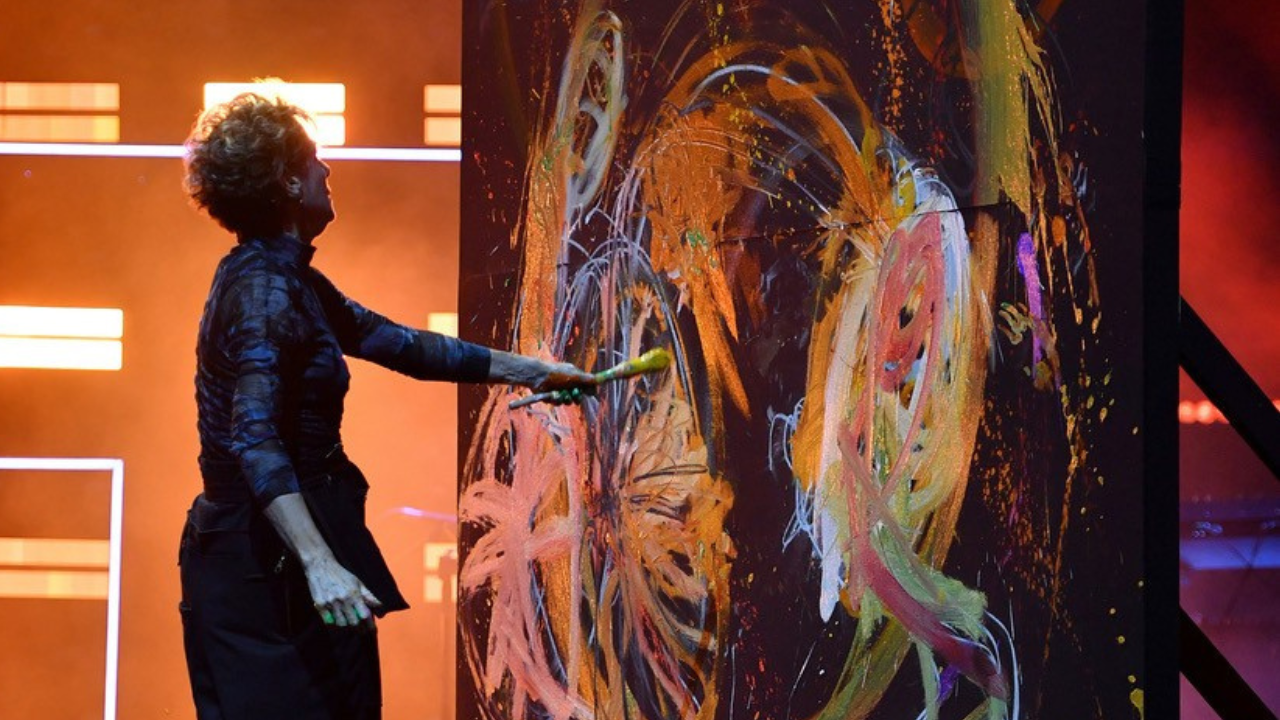 6pm – 7pm – The Arnhem Foyer, Fairfield Halls
Candoco Dance Company – Team with No Name
Contemporary dance geeks, Kimberley and Anne-Gaëlle have been friends for 15 years (& counting!). Masters in their own gymnastics and medalists in working across time and distance, this duet explores a rich connection between two award-winning dreamers and specialists of the in-between, who relish in the unspectacular.
Kimberley and Anne-Gaëlle present : Team with No Name
A fuchsia championship.
"It's at its most interesting when there is a sense of unknowing"
"A tender, playful and experimental relationship"
Ellen Renton – An Eye For An Eye For An Eye
Join Scottish poet Ellen Renton for a poetic exploration of what it means to grow up a girl, and how this experience intersects with disability and visual impairment. These poems concern themselves with looking: looking back over a childhood, looking again at what's in front of us, and looking forward to possible futures. They visit girlhood and myth, blindness and friendship. They celebrate the freedom, shame, and awkwardness of coming to terms with our own bodies, and they ask what it means to look different and see differently. Based on the pamphlet of the same title published by Stewed Rhubarb Press.
"A superb collection where every poem and word are crucial"

The Fountain
7pm – Talawa Studio
Inner Vision Orchestra and Rachel Gadsden – Inner Vision Quintet x Rachel Gadsden
The Inner Vision Orchestra is excited (X-sighted!) to be performing at the Liberty Festival. They delight audiences with their unique blend of joyful music from all over the world, led by Indian maestro Baluji Shrivastav OBE. This performance will feature a quintet from India, Colombia, England and Japan. They regularly tour and perform in top venues around the UK, and have released music with Arc/Naxos.
This is a special collaboration with Rachel Gadsden – a celebrated visual and performance artist who will be live painting to capture the music. Rachel will create a "live performance artwork" that will capture the sound, energy and dynamics of the Inner Vision Orchestra's concert.
"Joyously cross-cultural, stylistically boundless"

BBC Radio 3 Music Matters
"This was the most uplifting show I've been to in a long time!"

Audience member
"When Rachel Gadsden sets out to draw it is very much an existential process. The work emerges from physical sensations without any intention to draw a body. She begins by simply making marks and then out of that emerges the tensions of those marks"

Colin Hambrook Editor – Disability Arts Online (Opinion Piece)
Show credits:
Team With No Name – Candoco Dance Company
Learning Artists Producer: Jennifer Irons
Assistant Producer: Georgia Kingsman
Access Coordinator: Louisa Sutherland
Communications Manager: Jasmin Fiori
Production team: Phil Webb and PJ Davy
This project is a legacy of 3 x 3- A project funded by the British Council
Choreographer: Charlotte Darbyshire
Dramaturg: Jo Bannon
Musical Director: Jules Maxwell
Producers: Jennifer Irons, Anastasiya Voytyuk, Serkan Bozkurt, Evrim Mercan
Assistant Producer: Georgia Kingsman
Access Coordinator: Louisa Sutherland
Partners: Unbeaten Path- Ukraine, Arada Association- Turkey
Inner Vision Quintet x Rachel Gadsden
Baluji Music Foundation
Inner Vision Orchestra
Arts Council England
Rachel Gadsden
Inner Vision Quintet x Rachel Gadsden takes place in the Talawa Studio
About Talawa: The UK's outstanding Black British Theatre Company has been running for over 35 years, and is now resident in the heart of Croydon at Fairfield Halls. Their newly refurbished theatre space is a creative hub where they continue to tell inspirational and passionate stories that challenge the status quo.
https://www.talawa.com/productions
https://www.instagram.com/talawatc/
What will you experience
Team with No Name – This is a duet piece that is designed to be partly improvised and partly structured. The dancers speak during the performance as well as using props and movement.
An Eye For An Eye For An Eye – This is a poetry performance. There will be no audience interaction and the performance will be relaxed.
Inner Vision Quintet x Rachel Gadsden – This is a concert and the performers will be on a stage. One artist will be painting in response to the sounds.
Access Information
Important access information: Everyone is welcome to this performance. Guide Dogs will be looked after by our volunteers in a separate area due to the artist having a severe, life-threatening allergy to all dogs.
If you would like to attend this performance with your Guide Dog please contact lila@drunkenchorus.co.uk to discuss how we can facilitate this safely.
Easy Read information for 'Team with No Name' by Candoco Dance Company – https://qrco.de/beH6hA
For this event, the following access provision will be available:
BSL Interpreter
Integrated audio description
This is a relaxed event
Step-free access throughout. Access to Talawa Studio requires use of a lift.
Accessible toilets closeby
Audio Describers will be available across the festival to support with guiding, touch tours and describing on an on-demand basis. To book time with a describer for this event, email: lila@drunkenchorus.co.uk
A Wellbeing Hub and breakout space is available within the venue.
Easy-read information pack
Please note: some access resources such as; easy read information and pre-recorded audio description will be available across the festival via QR codes. We recommend bringing your smartphone and a pair of earphones if you would like to access these resources.
Content Warning
In Team with No Name by Candoco, the last song that is used has a strong bass.
About the artists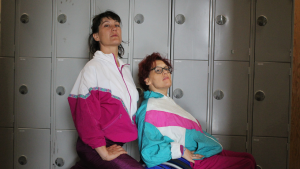 Candoco Dance Company – Anne-Gaëlle Thiriot and Kimberley Harvey have been colleagues, Candoco Artists, co-leaders, collaborators and friends for over 15 years….
Kimberley is an independent dance artist, which includes working as a performer, choreographer and teacher and an occasional writer.
Kimberley has over 20 years of history with Candoco Dance Company, but most recently this has been through her role as Director of Artist Development and Youth Programme.
Currently based between Marseille and London, Anne-Gaëlle combines performing, creating and giving access to dance through her company : La Mèche and her involvement with L'Autre Maison / Andrew Graham, creating big scale projects focused on inclusion and the beauty of human bodies and connections.
Candoco is a world-leading professional dance company continually expanding perceptions of what dance can be.
Bridging the mainstream and the experimental, our bold approach and powerful collaborations create distinctive performances and far-reaching learning experiences. We celebrate different ways of seeing, of being and of making art, putting us at the forefront of conversation around dance and disability.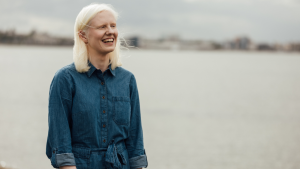 Ellen Renton is a poet, performer, and theatre maker from Edinburgh. She is a former recipient of both the Unlimited Emerging Artist Award and the R&D award, which supported her solo theatre show Within Sight and a multimedia installation about home and family history respectively. In 2021 she released her debut poetry pamphlet with Stewed Rhubarb Press and was awarded a Scottish Emerging Writer residency at Cove Park. She regularly collaborates with artists from other disciplines, including electronic musician Lord of the Isles, filmmaker Douglas Tyrrell Bunge, and movement director Rachel Drazek.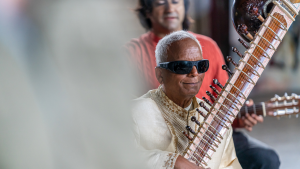 The Inner Vision Orchestra was founded in 2012 and is the world's only professional ensemble of blind and visually impaired musicians. They have been brought together from around the world by Indian maestro Baluji Shrivastav OBE. The orchestra regularly tours and perform in top venues around the UK and have released music with Arc/Naxos. The Inner Vision Orchestra is one of the main projects of The Baluji Music Foundation, which programmes and promotes blind and partially sighted musicians. It promotes equal working opportunities in music for blind and partially sighted people. In 2023 the Baluji Music Foundation is celebrating its 15th Anniversary and is carrying out research in collaboration with the University of London Institute of Education into increasing employment opportunities for blind and partially sighted people in music.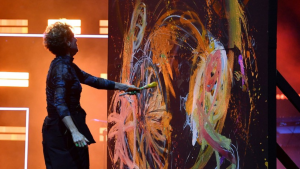 Rachel Gadsden is a multi-award winning visual and performance artist, researcher, and disability culture activist. She creates solo exhibitions and performances Nationally and Internationally with the object of developing cross-cultural dialogues considering universal notions of humanity. Her artworks are represented in private and major art collections across the Globe including HM The Kings Royal Art Collection, UK Parliament, Mandela's Walk to Freedom, SA, Fédération Internationale de Football Association Switzerland, The National Paralympic Heritage Trust, Hyundai, South Korea and Roche, Pharmaceuticals, Switzerland. She has received major award commissions for 5 Paralympic Games, and she has undertaken 4 commissions for UK Parliament. Rachel was awarded an Honorary Doctorate from LSBU, 2016 & in July 2021, and she gained a scholarship to undertake PhD research at Loughborough University
Show credits
Team With No Name – Candoco Dance Company
Performed and Choreographed by: Kimberley Harvey and Anne-Gaëlle Thiriot
Composed by: Jules Maxwell with the dancers
Produced by: Candoco Dance Company
'Team with No Name' is developed from the original concept and creation of '3×3' international collaboration, funded by British Council and produced in partnership with Arada (Turkey) and Unbeaten Path (Ukraine), directed by Charlotte Darbyshire and Dramaturgy by Jo Bannon.
Candoco Dance Company
Artistic Director: Charlotte Darbyshire
Executive Producer: Nicky Napier
Learning Artist Producer: Jennifer Irons
Assistant Producer: Georgia Kingsman
Access Coordinator: Louisa Sutherland
Communications Manager: Jasmin Fiori
Production team: Phil Webb and PJ Davy
Inner Vision Quintet x Rachel Gadsden
Baluji Music Foundation
Inner Vision Orchestra
Arts Council England
Rachel Gadsden