Parkbathe | Friday 17 November 4pm
Twilight gentle slow guided nature relaxation for adults and older children able to focus quietly. The 1hr guided sessions consist of small groups (adults 16+ only) guided by a ParkBathe walk leader.
Lantern Festival | Friday 17 November 5pm – 7pm
MHA The Wilderness is a unique and reformed garden which was first discovered over 100 years ago. The reclaimed wilderness offers access to a hidden heritage garden in Croydon, South London with an accessible, engaging and nature conservation programme of activities.
Singing in Nature | Friday 17 November 6pm – 6.30pm
Guided by Catherine Pesano, join us on Friday evening and enjoy singing in the early hours of the night. Surrounded by candlelight under the canopy of our woodland. Book essential.
Funding partner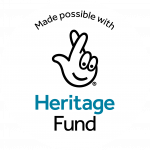 The National Lottery Heritage Fund.
The largest funder of UK heritage. We believe in the power of heritage to ignite the imagination, offer joy and inspiration, and to build pride in place and connection to the past.
We invest money raised by National Lottery players across the UK, in collaboration with a wide range of statutory bodies, as well as other National Lottery distributors. Our work is made possible thanks to the support of National Lottery players.
As The National Lottery Heritage Fund, we distribute National Lottery grants from £3,000 to £10million and over, funding projects that sustain and transform the UK's heritage.
As The Heritage Fund, we distribute funding on behalf of the UK and devolved governments to heritage organisations.
We provide leadership and support across the heritage sector, and advocate for the value of heritage.
Since we were established in 1994, we have awarded £8.8billion of National Lottery and other funding to more than 51,000 projects across the UK.