Journey to a Better World
2nd - 3rd Sep 2023 , 12:00pm - 6:00pm - The Cube, Fairfield Hall, Park Lane, Croydon CR9 1DG
Price : free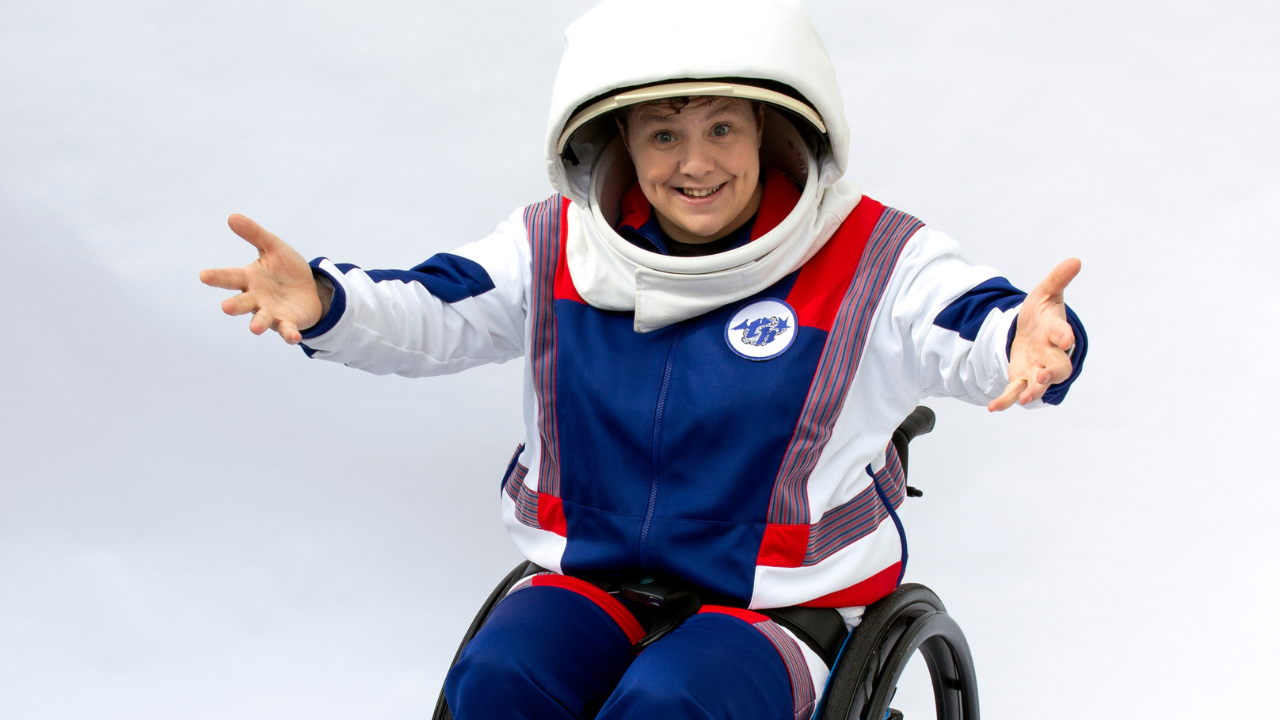 London based, disabled-led arts organisation Touretteshero will create their spaceship in The Cube at Fairfield Halls. Over two days, this space will play host to a series of immersive encounters with artists and activists for an intergenerational audience.
This will be a creative and collaborative experiment with our artists and audiences, as together we find ways to ensure that the experience is open to everyone, including those who cannot attend in person.
Everyone is welcome on our journey to a better world.
"Many of us have experienced sudden changes and the need to adapt to entirely new circumstances. Activist Alice Wong brilliantly described disabled people as 'Oracles' in today's world. We can also be the captains, sharing our knowledge to help navigate uncertain times."

Jess Thom, Touretteshero Co-Artistic Director
"Funny, utterly joyous, artful and political too."

Lyn Gardner
What will you experience?
This is a drop-in event, you can arrive and leave at any point.
Touretteshero is a group of artists. Our piece of art is called "Journey to a Better World." It is space themed. We are turning a room into a spaceship. Our spaceship is called the Starship Biscuit. The Starship Biscuit is a fun place. There will be activities to do, places to relax and lots of different ways to take part. It is for people of all different ages including children, young people, and adults. You can join us and use your imagination and creativity to bring our spaceship to life.
Teleport onto the Starship Biscuit, create your own planet to add to our Solidarity Solar System, watch our Spaceship film and relax in the Tranquillity Node, with its very own customisable cosmic soundscape.
Your Journey To A Better World (Booklet) [Drop in & Online] This is a booklet that invites you to draw or write about your own journey, design your own spaceship, and map the stars. Download your Journey To A Better World Activity Booklet here – https://qrco.de/beH72T
Planet You (Display and Activity) [Drop in] You will be invited to create your own planet and add it to our 'Solidarity Solar System' which will grow during the festival.
Tranquillity Node (Installation) – [Drop in] You can take a break in our rest space whenever you like. It is called the Tranquillity Node.
Suited for Space (Activity) – [Drop in] Customise your own spacesuit and have your picture taken for our gallery of fellow space travelers. What does your suit say about you? What adventures might you have in the future? Zero G Sensory Play (Activity) A sensory play experience with a zero-gravity theme.
Ticket information
Journey to a Better World is free, and you can turn up at any time between 12 and 6pm. However, this event has a very limited capacity, and there may be times during each day when it is full.
If this happens, you may be asked to wait until other people leave before you can enter, or advised to check out the rest of the festival events, and to come back later in the day
Access information
Visual story guide for 'Journey to a Better World' by Touretteshero – https://qrco.de/beH7Ax
Journey To A Better World – COVID related access information – https://qrco.de/beH78a
BSL Interpreters
This is a relaxed event
Step-free access throughout.
Accessible toilets closeby inside Fairfield Halls main building or via a lift in The Cube.
Audio Describers will be available across the festival to support with guiding, touch tours and describing on an on-demand basis. To book time with a describer for this event, email: lila@drunkenchorus.co.uk
A Wellbeing Hub and breakout space is available within the venue. 
Visual story guide
Please note: some access resources such as; the visual story guide, activity pack and Covid safety pack will be available via QR codes. We recommend bringing your smartphone if you would like to access these resources.
About the artists
Founded in 2010, multi-award-winning company Touretteshero share the humour and creativity of Tourettes Syndrome with the widest possible audience. Using Tourettes as a catalyst, their mission is to create an inclusive and socially just world for disabled and non-disabled people through our cultural practice. Since 2014 when they took their debut show Backstage in Biscuit Land to the Edinburgh Fringe Touretteshero have amassed extensive international touring experience. Co-founder Jess Thom who has Tourettes is a powerful and persuasive campaigner for greater inclusion in museums, galleries, and theatres alike. Touretteshero offer dynamic training and workshops to complement their creative work.
Show credits
Lead Artist: Jess Thom
Designer: Ben Pacey
Producer: Claire Murphy
Production manager: Erik Perera