Gloria Darling – Fairy Godmother
1st - 3rd Sep 2023 - Main Entrance, Fairfield Halls, Park Lane, Croydon CR9 1DG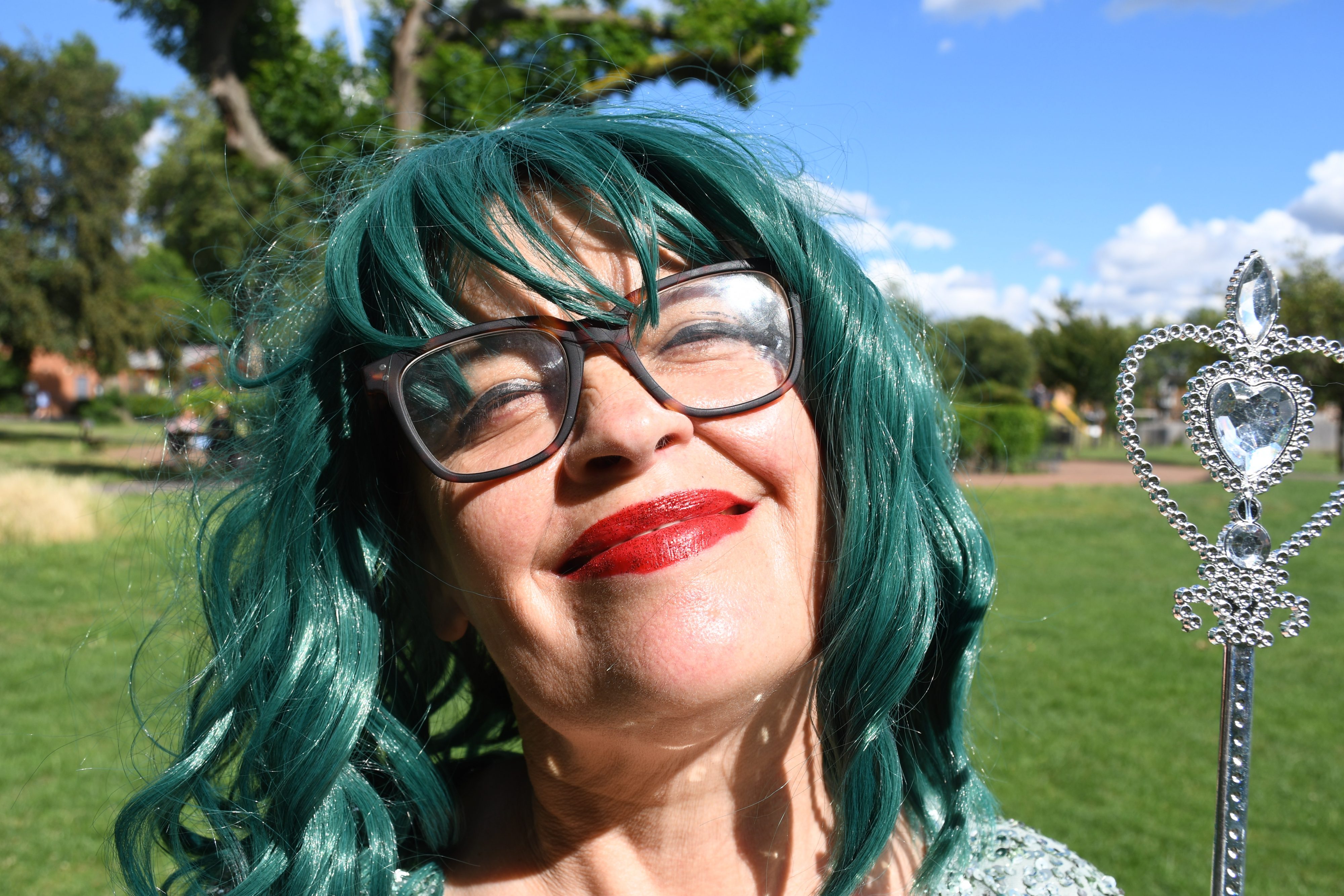 Gloria Darling is thrilled to be the Fairy Godmother and sparkling host of Liberty Festival. She will be there to greet you with a warm smile and is ready to answer any questions you might have about the festival or life in general. Gloria will be here all weekend dispensing wishes, answering questions, encouraging fun, giving advice and inviting you to share your hopes and dreams by writing or drawing them – and we will decorate the venue with all of your ideas for a brighter future! As the weekend goes on, we look forward to filling the foyer with amazing thoughts, words, images and the magic of our collective imaginations!
What will you experience?
A performer in a sparkly dress will say hello when you come into the venue. You will be asked if you would like to write or draw your hopes and dreams on paper and they will be displayed in the foyer so everyone can read each other's ideas.
Access Information
Easy Read information for Gloria Darling – https://qrco.de/beH6tZ
Roaming BSL interpreters will be available across the festival.
This is a relaxed performance
Step-free access throughout the venue
Accessible toilets closeby
Audio Describers will be available across the festival to support with guiding, touch tours and describing on an on-demand basis. To book time with a describer for this event, email: lila@drunkenchorus.co.uk
A Wellbeing Hub and breakout space is available within the venue.
Easy-read information pack
Please note: some access resources such as; easy read information and pre-recorded audio description will be available across the festival via QR codes. We recommend bringing your smartphone and a pair of earphones if you would like to access these resources.
About the artists
White Rabbit has created immersive cabarets, literally salons and outdoor storytelling shows, as well as films and audio, for organisations including the Royal Albert Hall, National Theatre and Southbank Centre. Bernadette is an award winning campaigner, author and performer with many alter egos, including your very own Fairy Godmother Gloria Darling, who has performed at Duckie, The Cheek of It! Burlesque, Phoenix Arts Club and at parties and cabarets all over the UK, promoting love, kindness, hope, fun and self expression.