Part of the Croydonites Festival 2023
Croytopia is the brainchild of Richard DeDomenici and Jess Mabel Jones. It's a new kind of video project where you not only create the content, but you are the content.
You are invited to recount on camera important and interesting personal facts and memories, triggered by specific locations in Croydon. These will be uploaded to an interactive map and become part of the exhibition at Turf Projects.
Croytopia is a way of preserving memories and social history. Over time we hope it will be useful for town planners and historians. We are particularly interested in receiving submissions from people of different generations who have memories about the same place. Could that be you and someone else in your family?
Find out more here: croytopia.com and send your videos to video@croytopia.com
'Jess Mabel Jones makes you look at the world in a different way. Remarkable.'

The Independent
'DeDomenici is one of the most intellectually gifted, imaginative and dedicated performance artists in the UK today.'

The Scotsman
Funding Partner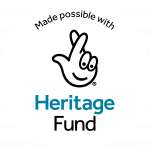 The National Lottery Heritage Fund
The largest funder of UK heritage. We believe in the power of heritage to ignite the imagination, offer joy and inspiration, and to build pride in place and connection to the past.
We invest money raised by National Lottery players across the UK, in collaboration with a wide range of statutory bodies, as well as other National Lottery distributors. Our work is made possible thanks to the support of National Lottery players.
As The National Lottery Heritage Fund, we distribute National Lottery grants from £3,000 to £10million and over, funding projects that sustain and transform the UK's heritage.
As The Heritage Fund, we distribute funding on behalf of the UK and devolved governments to heritage organisations.
We provide leadership and support across the heritage sector, and advocate for the value of heritage.
Since we were established in 1994, we have awarded £8.8billion of National Lottery and other funding to more than 51,000 projects across the UK.