Carnival of Invention
10th Sep 2023 , 11:00am - Station Road South Norwood (Norwood Junction Station)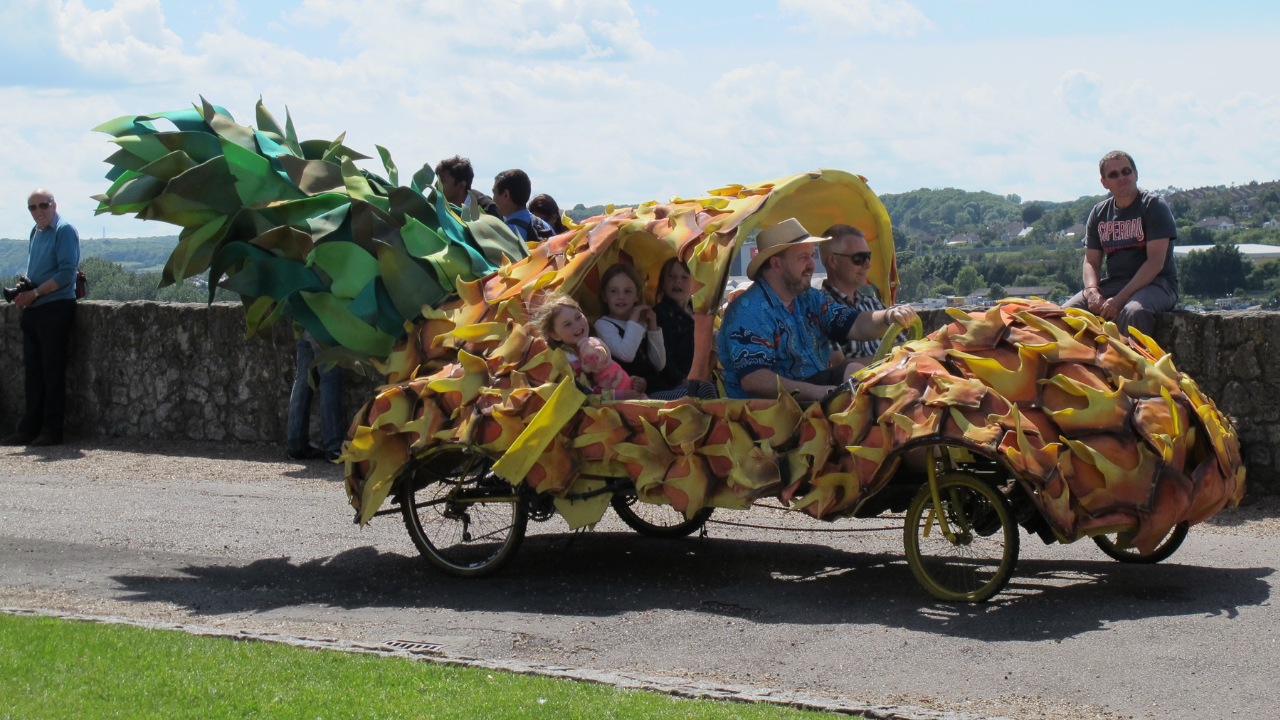 Take part in a feast of interactive activities, inspired by the diversity of South Norwood's unique heritage. Celebrate the spirit of invention and local creativity as we close and transform Station Road with activities for the whole family to enjoy.
See the future unfold before your very eyes with pineapple-generated electricity, fashion and junk upcycling workshops and art-making. Be inspired by poetry takeaways, walking tours, performances, live music, a free community feast and a go cart race to close off the day.
With local artists, inventors, musicians, performers and more, this is an opportunity to gather together and bring to life the heart of South Norwood.
Bring and share your bright ideas for the future as we create together the world of our greatest imaginations!
Free and unticketed with some activities requiring advance booking.
What's happening during the day
Interactive activities:
From 11.00 – 15.00
Superhero Badge Making with comic creator Martin Eden
Make and take away badges of your favourite superhero – imaginary or real – to wear as a badge of honour.
Martin is a local comic creator who has created, written and drawn several comic series, including The O Men, Spandex, Zeros, and The Mysterious Doors of Stanley Halls. He lives in South Norwood with his partner Federico and thousands of comics.
Mosaic Making with artist Kes Young
What do you love about South Norwood? What's your most beautiful vision of the future of this place? Make and take away your own mosaic that paints your unique picture.
Kes is a local artist providing art workshops for schools, afterschool clubs, festivals, parties and many more events all over London. Her Mosaics are produced at home in her studio, but sometimes you will find her creating and making her mosaics at Glows.
Make a Bug Hotel with artist Cecily Loveys Jervoise
Bugs and insects, from woodlice to bumble bees are vital for our ecosystem and they need safe, warm places to shelter, hibernate and lay their eggs. Come along to this drop-in workshop to make and decorate your very own bug hotel using natural and recycled materials.
Cecily Loveys Jervoise is an artist primarily working with clay she digs in the ground, naturally dyed textiles and learning projects to explore material cycles, fairytales and collaboration. She graduated from Kingston School of Art in 2020 and is now a student on Alternative Art Education Programme School of the Damned.
Build a Nature-Sculpture with artist Mandy Lawson
Make a growing plant sculpture from recycled wire coathangers. Bring your coathangers!
Mandy is a local ex-hairdresser and model with a lifetime experience of many creative crafts. She started her company Enlightened Lampshades during the lockdown, designed to inspire, educate, equip and enable anyone to participate in various craft making activities especially nature-themes lampshades. Her work focuses not only helping crafters' mental health, but also helping the environment.
Paint the Streets with artist Amina Malik
Join Amina Malik in painting the surface of Station Road ready in time for our Go Cart Race!
Amina is a local freelance visual artist who enjoys every opportunity to immerse herself in creative pursuits. You will find some of her artwork inside Jannah Perfumes, down Station Rd.
Litter Picking & Eco Art with Norwood JunKAction
Take part in litter picking sessions and creative workshops to make sculptures and outfits made of junk. Between 11.30 – 12.30 join Violeta Orsoro from the Litter Picking Friends of South Norwood and volunteer Marly King in a tour of South Norwood to learn about the hot spots where litter picking takes place and visit local litter-public sculptures.
Norwood JunKAction is an eco-art community project started by local artist Norman Mine. The project that turns litter into public sculpture to address social and climate issues. By bringing different members of the community together NJA creates public Art/Intervention that offers a tangible and imaginative way of exploring common interests and concerns through various lenses. Through collaborative efforts, NJA creates public art that encourages viewers to consider shared interests and engage in sustainable and creative practices.
Face Painting with Next in Line Face Painting
Re-invent yourself with colourful and creative face-painting. From flowers to rainbows, dragons to tigers, the list is endless. There is something for everyone.
Shellie Salmon of Next in Line Face Painting provides a professional face painting service that creates a range of designs for children and adults alike. She uses high quality hypoallergenic face paints to ensure the safety and satisfaction of customers. Shellie is a local mum and teacher who found a passion for face painting when her daughter was small. From small parties to large events with 100+ children, she aims to please with a design that puts a smile on those she paints.
William Stanley's Inventions with local craftsman Henry Lelen
11.15 – 12.00; 12.30 – 13.15; 14.15 – 15.00. Limited capacity. Booking required*
Want to see inside a current day inventor's studio and learn about crafting and making? Henry Lelen will be opening his workshop off of Station Rd for a small number of people to experience. Take part in demonstrations and simple reconstructions of William Stanley's patented inventions including the lemon squeezer, and see examples of Henry's own work.
Henry Lelen has lived in South Norwood for about 20 years and has had a workshop in Station Road for most of that time. He does private commissions by word of mouth in South London, making windows, doors, staircases, and carcase joinery for domestic properties. He designed, built and installed the windows at Mammadough's Pizza on Station Road.
Pineapple-Powered Cars & Armstrong Challenge with The Bureau of Silly Ideas
What will power our cities, cars, factories, of the future? Coal? We say NO! Oil? We say NO! Pineapples? We say 'PINEAPPLES?! Let's give it a go!' Over a century ago, William Armstrong challenged us to find new ways to power the modern world. He pioneered new ways of using water to generate electricity for his house (he also made weaponry, though we're not going to do that…). Now, one hundred years later, the Bureau of Silly Ideas are taking up this challenge – with fruit! But we need your help! How many lemons does it take to turn on a lightbulb? You show us! Help us change the world, one berry at a time. Will you take up the challenge?
Bureau of Silly Ideas (BOSI) are creators of inspired madness and controlled chaos in the public realm, believing that by engaging people in a conversation that extends beyond the absurd, they can impact genuine social change. As pioneers in the UK Outdoor Arts sector, they create new pathways / platforms for engagement and challenging what 'art' is through silliness and interrogation for 20 years. They injects art, entertainment, humour and surprise in everyday places – creating engaging installations, devised theatre shows and surprising interventions that bring magic and silliness to the mundane. The majority of their
work is delivered to audiences across the UK (and internationally) for free in spaces where people happen to be.
Walking Tour with Local Historian John Hickman:*
10.00 – 11.30; 12.30 – 14.00. Limited capacity. Booking required.
Learn about famous local and historic people and places as you explore the area with historian John Hickman. The easy-going walking tour will take you along the high street and highlight hidden stories from our Heritage Action Zone. Start and finishing point: Norwood Junction Station. Young children must be accompanied for road safety purposes.
John Hickman is a local resident and activist. Vice-president of Croydon Natural History & Scientific Society (founded 1870), member of The Norwood Society, member of North Croydon Conservation Area Advisory Panel. He gives talks on local history and guided tours of Croydon, South Norwood, Woodside and Beckenham Cemetery.
Poetry Takeaways
A diverse group of talented local Poet Chefs will provide high quality personalised poetry for guests and visitors, written, performed and delivered free, all from their mobile Poetry Emporium, The Poetry Takeaway.
They aim to make Poetry accessible, with their front of house quickly breaking down barriers, before a discussion takes place with one of our Poets. The process starts with an initial discussion, taking the order, gathering ingredients. "We guarantee everything from tears, laughter and everything in between." "Everything prepared fresh on the premises"
Community Feast
13:00 – 14:00. Limited capacity. Booking required*
A centre-piece of the Carnival will be a feast provided for 100 people sat at long tables down the middle of Station Road.
A fully plant-based and refreshing Turkmenistan feast will be provided by Communitea Cafe and "Yaba's Juice" by South Norwood Community Kitchen.
Communitea Cafe is a vegetarian cafe, lovingly focused on building a healthy and socially conscious community in Norwood Junction. Their resident chef for the feast is Guncha Bereket who arrived in the UK in 2004 with her two children and husband from Ashgabat, Turkmenistan. She graduated from Migrateful as a chef last August and now runs her own cooking classes and is setting up her own catering business.
Guncha is passionate about food and loves singing and dancing. During the feast she will also play a traditional instrument called dutar which is made from Mulberry wood and has two strings.
South Norwood Community Kitchen take unloved food that would otherwise go to waste and transform it into fine-dining deliciousness for everyone. They currently provide 3- course, nutritious, culturally appropriate meals for 150 local households twice per week, as well as redistribute unwanted clothes, toiletries, furniture, bedding, tents and sleeping bags. They provide one to one support, guidance and signposting to community members on issues such as benefits, housing, immigration and access to work and education.
For the Feast SNCK will bring their much loved 'Yaba Juice' and tell Yaba's story as part of an ongoing mini documentary film they are making, commissioned by Inventing South Norwood.
Everyone is invited to bring their own food and picnics and sit together in the street for a collective community feast.
Go Cart Race:
15:00 – 16:30
Closing the day with a bang will be our very own Go Cart Race for everyone to cheer on. 6 teams will have made their carts prior to the day with designer Oliver Thornton and local artist Ella Yarde and they will take part in point-to-point and circuit races down Station Rd. Prizes will be awarded for Speed, Flair and Showmanship, Best Costume, Best Cart Design, and Most Enthusiastic Team Support!
Ella Yarde is a freelance sustainable art and fashion facilitator, working with unwanted and recyclable items to produce creative art, fashion and fun workshops for all ages. Ellas goal is to get each participant to use their imagination and think outside of the box by using different objects and materials that would usually be overlooked. Ella runs weekly creative afterschool clubs at Heavers Farm Primary School (Creative Eco,
Sustainable fashion and Anime club) and facilitates many sustainable workshops and projects for all ages across London.
Oliver Thornton is a Scenic Carpenter working in the West End, television and film. He has worked on some of the biggest live television shows and films; from Britain's Got Talent & Next Level Chef to Star Wars. Oliver Studied at the BRIT School and has a deep passion for theatre and live music. He has recently started teaching lighting at the BRIT school as well as supporting the delivery of their production calendar. In his spare time Oliver enjoys working at Stanley Arts and offers practical and technical support in building improvements and the delivery of our performance schedule.
Performances:
'Revenge of the Norwood Builder' by Croydon Cycle Theatre
11.00 – 11.45; 12.45 – 13.00. Limited capacity. Booking required*
Can you and your family think like detectives? Can you unpick a dastardly murder, and investigate who dunnit against the clock? A classic Sherlock Holmes mystery has resurfaced in South Norwood Library – written when Arthur Conan Doyle was a local resident at Tennison Road. But this time someone is leaving strange new clues and hints. Who are they? What do they want?! We need YOU to help solve the mystery! This event is suitable for families and 6+.
Croydon Cycle Theatre creates new pieces of work that get people walking, cycling and exploring the histories and localities of Croydon and beyond. Since 2016 they have collaborated with Portrait artist Mel Sills to create a cycling map with female refugees and migrants, cycled to Croydon's twin town Arnhem to create a new WWII show called 'A Particular Kind of Twin', celebrated women's suffrage with a series of events including a night cycle and a gala celebrating the role of black women in politics, hosted a discussion event about Maternal Mental Health and created an immersive performance cycle ride for school children based on the story of female cyclist Tessie Reynolds.
Mama G Panto Dame
"Everyone's favourite pantomime dame," (Metro) Mama G, tells stories about being who you want and loving who you are to children and their families. As well as being regular at Stanley Arts she has also worked with
ZSL London Zoo, Cheltenham Literature Festival and was a semi-finalist on series fifteen of Britain's Got Talent.
Mama G will be the Host of the Carnival of Invention.
Frank Chickens
Frank Chickens, a legendary Japanese punk pop performance group with a cult following in the UK, were founded in London in 1982 as a duo with Kazuko Hohki and Kazumi Taguchi, but the group has now expanded to more than 20 members. They were John Peel's favourite, had an independent chart hit with "We Are Ninja", had a Channel 4 TV series: "Kazuko's Karaoke Klub", won the Foster Comedy God Award, released five albums and toured worldwide. "Their live performances delight audiences with idiosyncratic choreography, quirky humour and explosive energy – a feast of wit and visual extravagance." Recently they have become the power behind Ura Matsuri – the festival showcasing ESA (East And South East Asian) artists in the UK.
Frank Chickens will perform a song inspired by Norwood Junk Action in a costume made of junk.
Samba Reggae and Hip Hop with Pengenista Drummers
Pengenista drummers, based in South Norwood are a community Samba Reggae band. They believe in the power of music and specifically drumming for us brings us together as one. They mainly work locally within London providing workshops for all ages and abilities. They perform at local events as well as larger events including Notting hill carnival.
The Pengenista Drummers will open and close the Go Cart Race.
Cherry Stars
Cherrystars are an award winning, early years community performing arts school. Their team consist of BRIT School alumni and professional television and theatre actors who are specialised in teaching innovative performing arts classes. The core values at Cherry Stars are Communication, Creativity, Confidence Building and Community. Over the last decade, Cherrystars have strived to provide a safe, nurturing and affirming place in the local community for children to unleash their creativity and develop a love of the arts.
Young performers from Cherry Stars will bring songs from their latest performances.
Jean Genie Hayes
Jean Genie is the longtime Music Director for South Norwood Community Festival bringing together the local community for a free family festival that has entertained thousands.
Jean Genie's formed Massive Hugs in 2011, and joined by her husband Jonny, Jean Genie's Massive Hugs music has been likened to an audio cuddle, described as comforting, sincere and often dreamy. The band's dream poppy aesthetic has an edge recently demonstrated by the single "Ray of Hope " released in aid of the music venue trust.
Jean and Jonny also created a 15 minute documentary "Samuel Coleridge Taylor: In search of the Blue Note " which had a screening earlier in the year and was well received. It is this love of the work of Samuel Coleridge Taylor which has brought Jean and Jonny to the Carnival of invention to perform a bespoke piece of music inspired by the local composer, as well as bringing some of her back catalogue to the performance – music has to bring people together.
Jean Genies Hayes will be performing pieces that celebrate Samuel Coleridge Taylor during the Community Feast.
* Limited capacity. Booking in advance required.
Find out more
Facebook: @inventingsouthnorwood
Instagram: @inventingsouthnorwood
#CarnivalOfInvention