Breathing Room
1st - 3rd Sep 2023 , 11:00am - 7:00pm - Between Croydon College and Fairfield Gardens
Price : free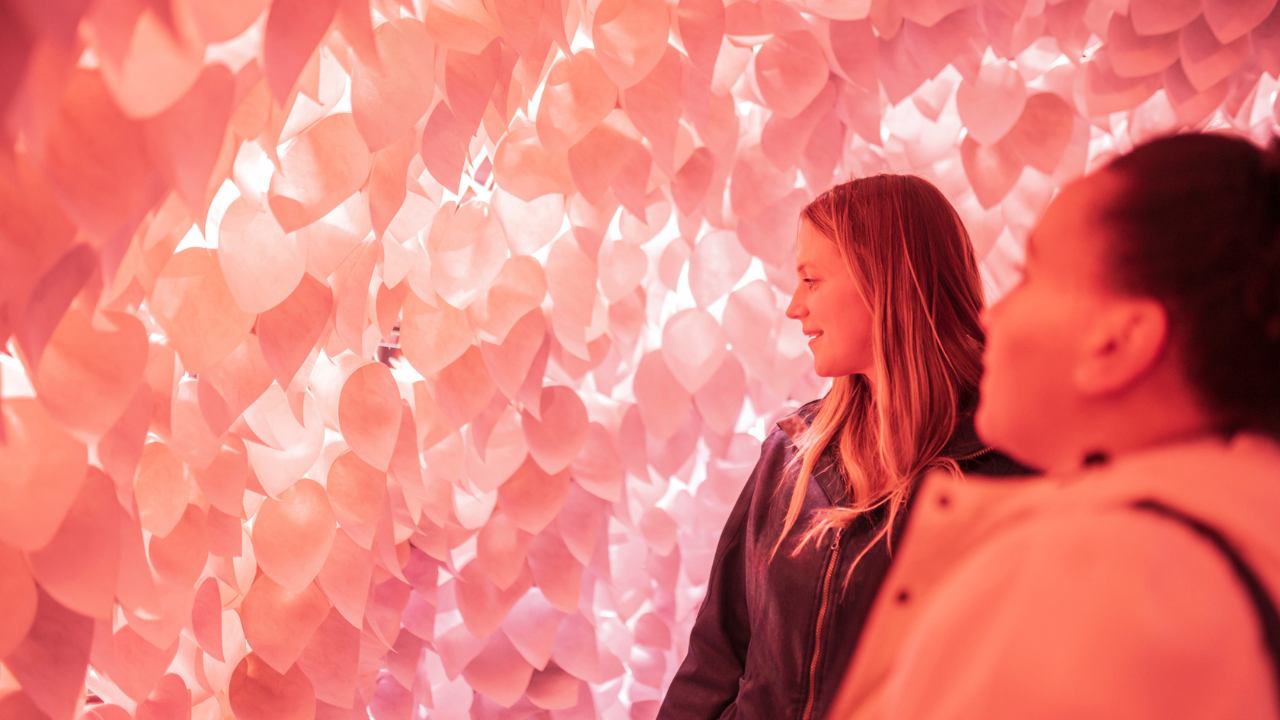 Breathing Room is an immersive, walk-in, kinetic installation by artist Anna Berry that beautifully combines organic and machine elements into a unique sensory experience. Entering the tunnel-like installation, the visitor is enveloped by 28,000 gently 'breathing' cones, which create a distinctive, otherworldly encounter and offers a space for contemplation and reflection. Its mechanical exterior skeleton contrasts sharply with the organic interior, which creates a sense of the uncanny and encourages the viewer to reflect on their own surroundings. Every element of the structure is bespoke and hand-made.
From previous audience members:
"It was beautiful … a bit like being inside a living creature or walking through a leafy glade."
"Incredible piece of engineering. Brought my five-month-old son to experience it with me."
"Felt I could just sit and meditate in here. Very atmospheric."
What will you experience?
Breathing Room is an art installation in the shape of a tunnel that visitors move or walk through from one end to the other. The walls of the tunnel are lined with cones which gently move as if they are breathing. From the outside you can see the mechanics that make the cones move.
Access information
Audio Description for Breathing Room – https://qrco.de/beGrN8
Breathing Room has step-free access.
Audio Describers will also be available across the festival to support with guiding, touch tours and describing on an on-demand basis. To book time with a describer for this event, email: lila@drunkenchorus.co.uk 
The art installation does not feature any loud or sudden noises or movements, but has a gentle rhythm sound as it moves.
As with all of Liberty Festival, the installation is relaxed, meaning you can move around, make noise and tic as you need.
Accessible toilets are located nearby, inside Fairfield Halls.
A Wellbeing Hub and breakout space is available nearby, inside Fairfield Halls.
Roaming BSL Interpreters will be available across the festival. To book time with an interpreter for this event, please email: lila@drunkenchorus.co.uk Please note: this installation does not contain any spoken dialogue.
An easy-read information pack will also be available.
Please note: some access resources such as; easy read information and pre-recorded audio description will be available across the festival via QR codes. We recommend bringing your smartphone and a pair of earphones if you would like to access these resources.
Content warning
The installation is an enclosed space.
About the artist
Self-taught UK artist Anna Berry is best known for her grassroots interventions in non-gallery environments, as well as large scale immersive installations. Her work encompasses a wide variety of processes and ideas, and often involves non-archival materials, long repetitive making, and short-lived ephemeral outcomes. As such, Anna's practise operates at the intersection of making, performance, installation, and recording. Her work is responsive to place, community, and politics, and is often concerned with our experiences of reality. Anna was born in Glasgow but is currently based in Milton Keynes. She is also a musician, writer and photographer.
Show credits
Breathing Room was created in collaboration with Clive Doherty. It was originally commissioned and supported by Unlimited, celebrating the work of disabled artists, with funding from Arts Council England, and co-commissioned by The Stables for IF: Milton Keynes International Festival 2021. Created in partnership with 101 Creation Space. With thanks to Festive Road and Spenic Limited.