A Little Bit Of A Do: Family Cabaret
21st Oct 2023 , 4:00pm - Stanley Arts - Society Room
Book your tickets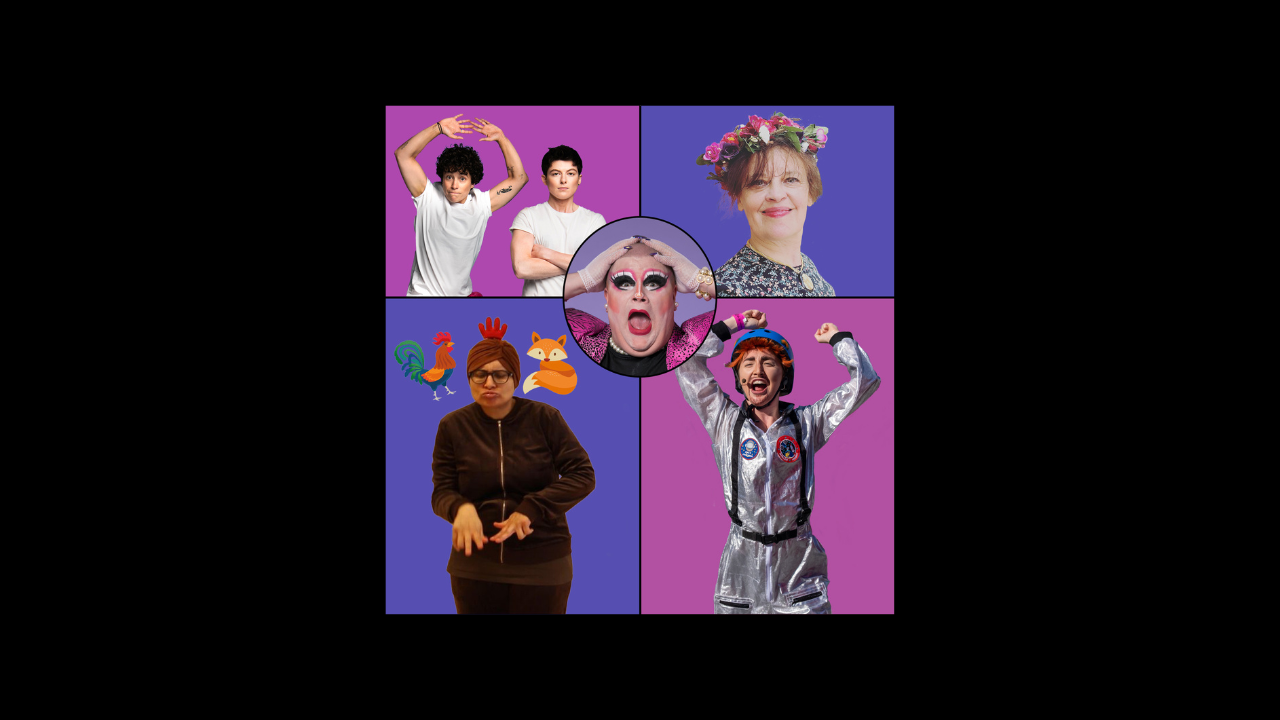 Part of A Bit of A Do Festival
An afternoon of performance and cabaret for children ages 6+ and their adults. 
Your host, Shar Cooterie, will guide you through an afternoon of fun performances!
Featuring magical tales from Bernadette Russell, daft pranks and joyful silliness from comedy duo Shelf, British Sign Language storytelling from Sahera Khan and intergalactic dance from LYNNEBEC
This is a great opportunity to introduce your little ones to theatre, cabaret and comedy, in a relaxed and welcoming environment.
Line up
Bernadette Russell / White Rabbit
LYNNEBEC
Sahera Khan
Shar Cooterie
Shelf 
What will you experience?
This is a relaxed performance event for children and their families. There will be a range of seating, and the audience will be free to stand-up, move around and make noise. There will be several short performances, including things like storytelling, comedy, and dance. Some of the pieces may be gently interactive.
About the performances
Bernadette Russell / White Rabbit – A long time ago… in a land far away..
Bernadette is here to tell you some stories straight from the woods- true tales about a long ago time when people and trees talked to each other, foxes taught children to dance and wishes were living, sparkling things. You will be invited to join in with the stories as much or as little as you want- as you'll see the stars fill the sky, hear the trees whisper secrets to each other and learn how to twitch your own, secret tail…
LYNNEBEC – You're Out Of This World
Astro Groovers are intergalactic travellers that know how to throw a party! They are on a mission to discover the galaxy's hidden dance floors, never danced upon by human kind. With their infectious energy and special space disco dance routine, they train up eager recruits to help them in their quest to discover the greatest party of all time!
Sahera Khan – The Cockerel and the Fox
A story about a Cockerel and a Fox where Sahera will teach animal signs to the audience. The journey starts with the Cockerel living on the farm. He talks about the farm and animals. Then the Fox talks about her life and what she likes to eat. They meet and the Fox tells a story about kings. 
Shar Cooterie – Compere
Shar Cooterie, Queen of the Deli, will serve you up a little sweet, a little sour, a little sass and a lot of power. With a veritable smorgasbord of comedy, personality and powerhouse vocals on the menu, Shar hopes that you enjoy her unique flavour of honey roast glam.
Shelf
Kids sketch comedy that's fun for all the family, featuring pranks, mime, silly noises and hugs.
Access information
For this event, the following access provision will be available:
Performance BSL Interpreter
Front of House BSL Communication Support
Some performances will be performed in British Sign Language, with voiceover in spoken English
Step-free access throughout the venue
Accessible toilet within the venue
This is a relaxed performance, meaning audience members can come and go and make noise as needed.
Content warnings and age guidance
Age Guidance: This event is recommended for children aged 6+ and their families.
About the artists
Bernadette Russell / White Rabbit are all about bringing fun, magic, wonder and stories into the world- a place where trees talk and foxes dance- a wonderland where anything is possible! We tell stories and poems and encourage wildness and joy
LYNNEBEC are a multidisciplinary performance company making work for outdoor and unusual spaces. Using physical storytelling, dance and movement, they create interactive stories and adventures that are joyful and empowering.
Sahera Khan is a Muslim, British South Asian, Deaf and British Sign Language Artist/Actor.
Shelf are a critically acclaimed, award-winning comedy double act who perform for both adults and children.
⭐⭐⭐⭐ The Guardian, The Scotsman, The List, The Skinny