TransHuman Embodiment and Beyond
1st Sep 2023 , 7:30pm - 8:00pm - The Foyer, Fairfield Halls, Park Lane, Croydon CR9 1DG
Price : free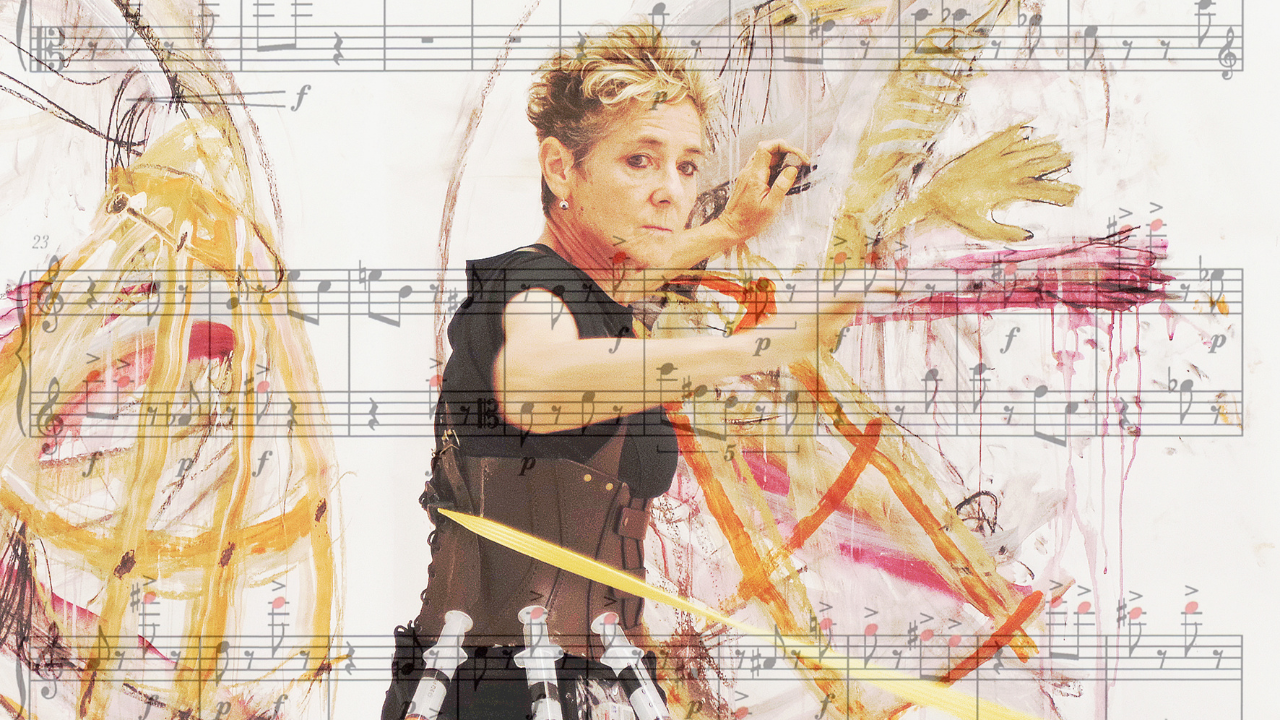 Disabled visual and performance artist Rachel Gadsden, and sound designer Freddie Meyers, have created a dynamic live art and sound performance that takes the audience on a journey exploring notions of TransHuman Embodiment. Through their combined art practices, Gadsden and Meyers consider how chronic illness and disability not only present challenges, but also empower and authorise agency of the body. The ambition is to build foundations for a social and politically charged artistic expression, and to contribute to disability cultural change.
It is because of the advancement in medical science that Gadsden continues to survive, and to go on to challenge perceptions of disability, both Nationally and Internationally, through her art practice. TransHuman Embodiment and Beyond will premiere at Liberty Festival 2023, Croydon.
Gadsden is creating an artwork with frantic speed, fighting her own real-life fight against the dying of the light. In the act of painting, she tells us, she is "living in the second"… A profoundly affecting reminder of our shared humanity

Luke Jennings, The Observer
About The Artist
Rachel Gadsden is a leading British visual and performance artist and disability cultural activist, who exhibits and performs her art nationally and internationally. Expressionist in approach, she creates solo exhibitions, performances, and collaborative social engagement art projects with disabled, vulnerable, and mainstream communities, with the object of developing cross-cultural dialogues considering universal notions of humanity.
Freddie Meyers is a composer, musician, and educator, currently based in Windsor where he has been Composer-in-residence at Eton College for the past two years. Freddie's music explores the fragility of sonic experience, both through his use of microtonality and networked internet practices. His works have been performed both nationally across the UK as well as internationally in Europe and the Middle East.
Ticket information
This performance will happen in the foyer, in between performances of NOISE by Nua Dance and the Liberty Live Comedy Night
Please book a ticket for NOISE or Liberty LIVE to experience TransHuman Embodiment and Beyond
Access Information
Important access information: Everyone is welcome to this performance. Guide Dogs will be looked after by our volunteers in a separate area due to the artist having a severe, life-threatening allergy to all dogs.
If you would like to attend this performance with your Guide Dog please contact lila@drunkenchorus.co.uk to discuss how we can facilitate this safely.
For this event, the following access provision will be available:
FOH BSL Interpreter 
An audio description introduction will be available online through a QR code.
Multisensory experience: soundscapes aim to act as an alternative for visuals for visually impaired/blind audiences.
Easy-read information pack
This is a relaxed event
Step-free access throughout
Accessible toilets closeby
Audio Describers will be available across the festival to support with guiding, touch tours and describing on an on-demand basis. To book time with a describer for this event, email: lila@drunkenchorus.co.uk
A Wellbeing Hub and breakout space is available within the venue.
Please note: some access resources such as; easy read information and pre-recorded audio description will be available across the festival via QR codes. We recommend bringing your smartphone and a pair of earphones if you would like to access these resources.
Content Warning
Medical paraphernalia (e.g. syringes) – related to medical use only, There may be loud noises.