Since the railway line was removed in the early 2000s, the Railway Park has been transformed into an highly essential, biodiverse corridor for wildlife and pollinators in an otherwise dense housing area in Addiscombe. Unlike other ore formal parkland, the Railway Park hosts many wild areas inaccessible to humans, where foxes, badgers, voles, squirrels, bats and nesting birds can safely make their homes. We believe there is a precious fragment of the Great North Wood in the most northerly end of this linear park, where the girth of a tree suggests it is at least 180/200 years old.
This free walking event will highlight many historical areas of interest, and different species of tree, shrub, flower and fruit growing in the park and their properties, enabling walkers to learn more about their environment easily missed if simply using the park as a shortcut.
Our aim is to enable people to learn more of the natural world literally on their doorstop, and its value especially at a time of climate emergency as a green resource for everyone. We also hope they will enjoy experiencing health benefits of being in nature. The walk, with volunteers acting as guides, to give opportunity for discussion. There will be an optional mindfulness, drawing and poetry activities. Family packs will be provided, and refreshments.
This event, like all others organised by the Friends group, would be free to all attendees and every effort is made to make them as accessible as possible to all participants.
Funding Partner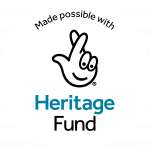 The National Lottery Heritage Fund
The largest funder of UK heritage. We believe in the power of heritage to ignite the imagination, offer joy and inspiration, and to build pride in place and connection to the past.
We invest money raised by National Lottery players across the UK, in collaboration with a wide range of statutory bodies, as well as other National Lottery distributors. Our work is made possible thanks to the support of National Lottery players.
As The National Lottery Heritage Fund, we distribute National Lottery grants from £3,000 to £10million and over, funding projects that sustain and transform the UK's heritage.
As The Heritage Fund, we distribute funding on behalf of the UK and devolved governments to heritage organisations.
We provide leadership and support across the heritage sector, and advocate for the value of heritage.
Since we were established in 1994, we have awarded £8.8billion of National Lottery and other funding to more than 51,000 projects across the UK.