Liberty Garden Party – Sunday
3rd Sep 2023 , 11:30am - 5:00pm - The Queen's Gardens, Croydon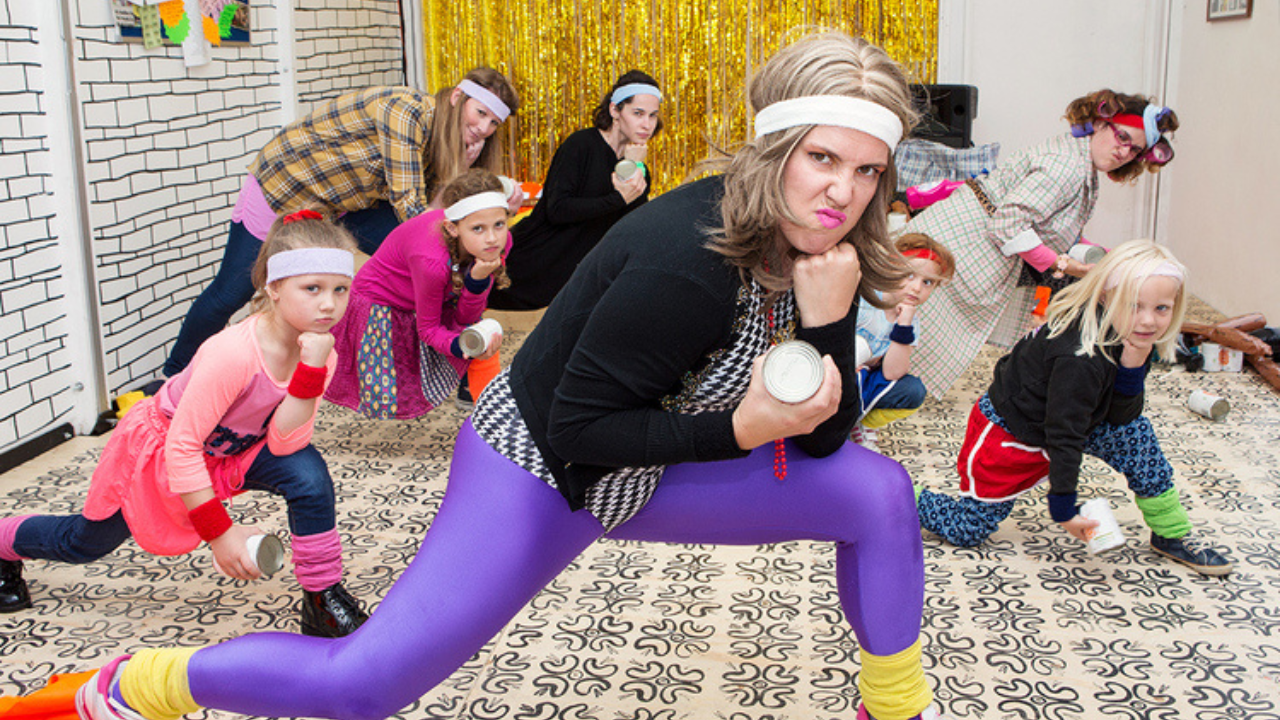 This is a family friendly outdoor pop-up event.
Join us at The Queen's Gardens, where throughout the afternoon performers will entertain you while you enjoy a drink from Dialogue Hub's Mobile BSL Dialogue Cafe!
The following artists will be performing throughout the afternoon:
Club Soda
DISCO DISCO
Hijinx
Moxie Brawl
SLiDE
Tit for Tat
For performance times please check the Liberty Festival timetable  – https://qrco.de/beFLTb
What will you be experiencing?
You will be standing or sitting in Queen's Gardens to watch an afternoon of pop-up performance. There won't be a raised stage or theatre seating. Some of the performances will be stationary, some will move around the park. Some of the performers will interact with the public, and might ask you to join in.
About the performances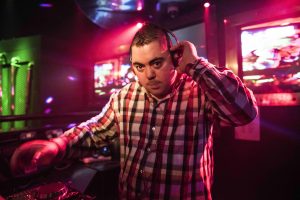 Club Soda – Silent Disco. Club Soda's Soda Crew Djs are bringing bangers to Liberty Festival. The crew (made up of DJs with learning disabilities) are used to #PartyingInPlainSight at Boxpark in Club Soda's longstanding inclusive club nights. Normally they're making lots of noise, so we thought it was time to switch it up a bit. Let's crank the volume down, grab your headphones and join them for their first ever silent disco…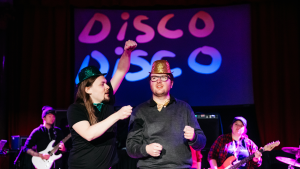 DISCO DISCO – What's in the bag? Please ensure you take all of your luggage with you. Any unaccompanied luggage will be discarded… unless DISCO DISCO is around. In which case, please leave all items unattended for frivolous, dynamic and joyful celebrations.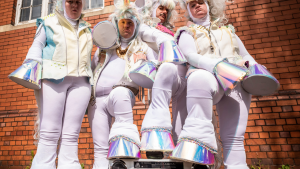 Hijinx Grumpy Unicorns. Guess what?! Turns out unicorns are REAL! They're more beautiful than we imagined. They are, however, grumpier than we imagined. They've had it up to the tip of their horns with people thinking they're 'cute' or 'magic'. They just want to be taken seriously, or better yet, left alone.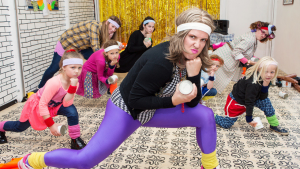 Moxie Brawl Tracey Let's Get Physical! Tracey is your average Olivia Newton-John loving, baked beans obsessed, working mens club aerobics instructor from Dagenham, East London. Get ready for some mind boggling, drink inspired, beige food incorporated chair based exercises. It's time to stretch those bodies and get ready for your summer swimming togs. Let's get physical!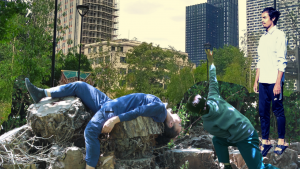 SLiDE – <Insert title here> dancers and musicians will create short improvised performances. Watch us as we move around the gardens. We invite you to give titles to this ever-evolving work of art. We will use your title to inspire the next improvisation. And so on…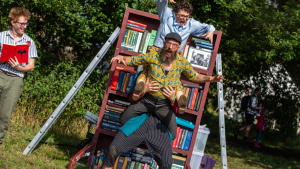 Tit for Tat Books! Bound together in fiasco and mayhem, four bedraggled book enthusiasts embark on a quest between the margins; sharing their maniacal love for stories whilst altering their own epilogues.
About the activities
Dialogue Hub Mobile BSL Dialogue Cafe. Dialogue Cafe is the first British Sign Language (BSL) cafe in the UK. We employ Deaf and Hard of Hearing baristas so customers have to sign their orders in BSL to communicate to the staff. There is relevant signage for those to use to sign their order. Dialogue Cafe aims to address some of the socio-emotional issues those in the Deaf and Hard of Hearing community face, and the lack of necessary infrastructure to assist those in the community to interact with everyday society. Customers and baristas have genuine interactions and discussion that help guests develop a greater understanding and awareness of the community and BSL.
Access information
Easy Read information for the Mobile BSL Dialogue Cafe – https://qrco.de/beH6bW
Easy Read information for Club Soda's Silent Disco – https://qrco.de/beH6jl
Easy Read information for 'Grumpy Unicorns' by Hijinx – https://qrco.de/beH6vI
Easy Read information for '<Insert title here>' by SLiDE – https://qrco.de/beH704
The Queen's Gardens has step-free access throughout the areas that will be used as performance spaces. There are smooth, concrete paths connecting these areas of the park. There are some areas of the path with slight incline/declines.
Either side of these paths are small grassy areas and benches
All performances will be relaxed, meaning you can move around, make noise and tic as you need
Performances will also include:
BSL interpreters
Some performances will include integrated audio description
Integrated audio description
Easy-read information packs
Please note: some access resources such as; easy read information and pre-recorded audio description will be available across the festival via QR codes. We recommend bringing your smartphone and a pair of earphones if you would like to access these resources.
Content warning
Books! by Tit for Tat contains fire-juggling. This is carried out with full safety precautions in place.
About the artists
Club Soda are a disability led organisation in Croydon providing opportunities for people with learning disabilities in music and media. Through inclusive club nights, live music events and musician mentorship, the project pushes to break boundaries in the music industry and increase representation of learning disabled artists. Soda Crew are their resident DJs who soundtrack Club Soda's longstanding inclusive club night, currently at Boxpark.
DISCO DISCO is a theatre company of learning disabled and autistic adults, run by Drunken Chorus. The group meet weekly in Croydon to devise their own performances, inspired by the world around them, in a relaxed and inclusive environment
Hijinx is one of Europe's leading inclusive theatre companies, creating outstanding performances with learning disabled and/or autistic artists on stage and on screen, for Wales and for the world. The heart of our work is our learning disabled and/or autistic artists, who constantly challenge perceptions of what theatre and film can be and how they should be made. Performances that change the way that we perceive the world are the performances that remain with us forever. This is what we aspire to make. Our work is bold, vibrant, anarchic and honest because our artists are bold, vibrant, anarchic and honest.
Moxie Brawl is a spicy inclusive dance theatre company who make work that your mum would love. Their award winning performances have been described as 'gloriously shambolic', 'wholly absorbing', 'endearingly witty' and 'definitely the most fun you'll have at a dance show'. Moxie Brawl creates work for the outdoors, indoors and places where dance shouldn't be. Moxie Brawl is led by artist Sarah Blanc and producer Michael Kitchin.
SLiDE is a community of dancers, musicians and creatives based in Croydon of varying ages, backgrounds and differently-abled. SLiDE makes experimental performance pieces using improvised and contemporary movement. The work is presented in a relaxed format, with carefully considered ways for the audience to engage and interact with the work. SLiDE has shown work at Turner Contemporary, Stanley Arts, Turf Projects, Southbank Centre and The Place. SLiDE has been commissioned by Croydonites, Drunken Chorus, The Place/London Contemporary Dance School, St.Christopher's Hospice and many others
Tit for Tat is an unusual juggling company that believes in celebrating the ordinary. We take everyday objects, objectives and scenes, and we explore every nook and cranny until we make them extra-ordinary. We believe in finding the most exciting and, more often than not, the most difficult way of getting from A to B. Even when undertaking simple tasks such as making a cup of tea, painting a wall, or changing a lightbulb. Our performances bring a sense of raucous, all-inclusive community fun to public spaces – connecting with our audiences in a shared celebration of the absurd.
Show credits
Hijinx
Ellen Groves – Performer, Devisor, Co-Director & Concept Originator
Fiona Wilson – Performer & Devisor
George Fuller Orange – Performer & Devisor
Jonathan Pugh – Performer & Devisor
Ben Pettitt-Wade – Co-Director
Jacqui Onions – Choreographer
Susie Glatt – Costume Designer & Maker
Tom Ayres – Production Manager
Ellis Wrightbrook – Producer
Holly Stoppit – Clowning Facilitator (R&D)
Moxie Brawl
Tracey first started working at The Oasis Social Club with Mavis Davis, supported by Arts Admin.
SLiDE
Dancers: Aaron Baksh, Kirstie Cooper, Natasha Cox, Takeshi Matsumoto
Musician: Devaki Thomas
Creative support and direction: Gemma Coldicott
Tit for Tat
Performers
Ryan Murphy
Maia Ayling
Max Gabarre-Grindrod
Charles Brockbank